Diversity
In the last two decades, there has been a steady increase in the percentage of women pursuing a career in physics. The percentage of minority employment in physics remains at a very low level.



Women in Physics
How many women are there in physics? Since the early 1970's, there has been a significant increase in the participation of women in physics. While there are positive trends, it should be noted that women earn proportionately fewer degrees in physics than in most other disciplines. The recent climate for women in physics has improved substantially. The AIP Statistical Research Center shows great advances in percentages of women studying and working in the field. Visit AIP for more details.

Diversity within Physics
The following chart indicates the number and percent of change of physics degrees granted to African Americans between 2003 and 2013, as reported by AIP. The full report is available here.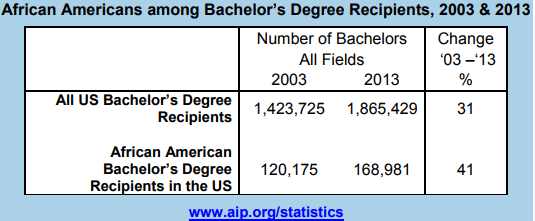 Organizations for Women and Minorities
There are a number of organizations that provide advice, mentoring, and assistance to women and under-represented minorities. The following are a few such groups that focus specifically on the needs of women and minorities.
Note: Some resources in this section are provided by the American Institute of Physics and the US Department of Labor, Bureau of Labor Statistics.