Earnings

According the U.S. Department of Labor, Bureau of Labor Statistics, the median income for geoscientists is $79,160.
The middle 50 percent earned between $54,470 and $113,390; the lowest 10 percent earned less than $41,700, and the highest 10 percent more than $155,430.
The petroleum, mineral, and mining industries offer higher salaries, but less job security, than other industries because economic downturns sometimes cause layoffs. Median annual wages for the industries employing the largest number of geoscientists are as follows:
| | |
| --- | --- |
| Oil and gas extraction | $127,560 |
| Federal Executive Branch | 90,220 |
| Architectural, engineering, and related services | 66,770 |
| Management, scientific, and technical consulting services | 62,070 |
| State government | 57,700 |
In March 2009, the Federal Government's average salary was $94,085 for geologists, $108,118 for geophysicists, $89,404 for hydrologists, and $105,671 for oceanographers.

Industry Options Impact Salary
Salaries in the geosciences vary across industries, disciplines, and economic cycles. Historically, the geosciences have experienced cycles of hiring with peaks and valleys often directly tied to the price of oil, and the trends in environmental regulation. Salaries vary between different industries such as energy, environment, and mining. Geoscientist supply and demand in each of these areas is driven by different factors. The energy industry is strongly driven by the price of oil and gas, global opportunities for exploration activity, and new technologies that affect the economics of exploration and production.

In the environmental field, career opportunities and salaries depend largely on the level of enforcement of environmental codes and on new legislation developed by the government. In the natural hazards area, business is fueled by the level of new construction both in the U.S. and worldwide.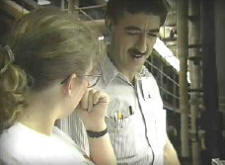 The mineral resources industry is largely driven by the price of commodities on the open market. However, like the oil industry, the rapid aging of the existing population of geoscientists is fueling demand for new professionals to maintain current employment levels.

You need to track events that affect the geosciences. By developing your own network and by being involved in professional organizations and activities, you can remain current on employment and salary trends in fields in which you are interested.
Note: Some resources in this section are provided by the American Geological Institute and the US Department of Labor, Bureau of Labor Statistics.