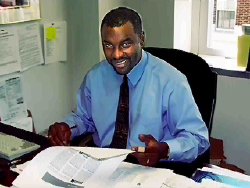 Brian Tweedy

Assistant Editor
American Chemical Society
Washington, D.C.


| | |
| --- | --- |
| | B.S. - Biochemistry, University of Maryland |
| | Assistant Editor of journal published by professional society |


Bryan Tweedy received a Bachelor of Science degree in biochemistry from the University of Maryland. His interest in a career outside of the laboratory was sparked during his junior year in college when he attended a seminar on opportunities for chemists (and biochemists) in nontraditional career areas. Representatives of the American Chemical Society (ACS) came to the university to speak to students who were considering these career paths.

Shortly after graduating, Tweedy accepted an entry-level position at ACS in the finance office to get his foot in the door. Not long afterwards, he accepted an editorial position in the ACS Journal Publishing Operations' Manuscript Office, where he assisted in managing the peer-review system for four ACS journals - Environmental Science & Technology, Industrial & Engineering Chemistry Research, Journal of Agricultural and Food Chemistry, , and Journal of Chemical and Engineering Data. He used his background in the chemical sciences to pair authors' research topics with reviewers' expertise, evaluate minor revisions made by authors, and act as liaison between authors, reviewers, and editors.

Over the course of seven years in the Manuscript Office, Tweedy was promoted three times to positions of increasing responsibility before transferring to the Special Publishing Operations arm of ACS, becoming an assistant editor for the magazine, Today's Chemist at Work- a one-stop source for information for industrial chemists (primarily those with B.S. or M.S. degrees). Along with monthly feature and department articles that focus on a wide range of chemistry topics, the magazine also published articles that cover areas such as personal finance, health, and government regulations.

Throughout his eight years in Special Publishing Operations, Tweedy was eventually promoted to managing editor of three publications: Today's Chemist at Work, Modern Drug Discovery, and the Journal of Proteome Research. Tweedy then transferred to the Membership arm of ACS, working as a senior scientist in the Office of Industry Member and Award Programs. His primary responsibility is to establish and maintain communication with traditional and analytical chemistry companies.