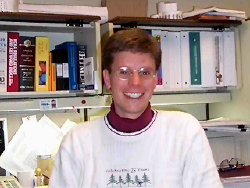 Robert Parkhurst

Environmental Engineer, R&D
Abbott Laboratories
Lake County, IL


| | |
| --- | --- |
| | B.A. - Chemistry, Northwestern University |
| | Environmental Engineer, R&D in Hazardous Waste Management |
| | "When looking for a job, network with as many professionals as possible. Remember that even if a contact person cannot offer you employment, he or she may know someone who can." |


"At Abbott Laboratories, an international pharmaceutical firm, I am responsible for the recycling or disposing of approximately 400,000 gallons of hazardous waste. I work in an 11-member department with eight operators who load the tank trucks which carry our wastes; an environmental chemist who works with new and odd waste streams; and a manager who guarantees that the department meets federal, state, local, and corporate regulations.

Every month, I schedule an average of 86 trucks for the pickup of Abbott's hazardous waste, and forecast waste by the year, month, and quarter. I then compare the forecasts with the actual amount of waste disposed of and resolve any discrepancies. This data becomes part of Abbott's Toxic Release Inventory Report for the U. S. Environmental Protection Agency.

I also give advice to production support staff about safe and most environmentally friendly disposal methods. Often our division tries to modify processes to isolate environmental pollutants. Obtaining a background in hazardous waste management through summer internships and classes has been essential for this work."

His advice to students? "When looking for a job, network with as many professionals as possible, and spend time writing letters and calling contacts. Always remember that even if a contact person cannot offer you employment, he or she may know someone who can. Also, do not underestimate luck. You may just happen to be in the right place at the right time. So stick to your goals; they will be your compass. And remember, even part-time employment in your field beats no employment; many times you will make other contacts which could lead into a full-time job."