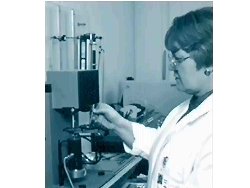 Connie Murphy

Senior Research Technologist
Dow Chemical Company
Midland, MI


| | |
| --- | --- |
| | A.A.S. - Chemical Technology, Milwaukee Area Technical College |
| | Senior Research Technologist in Chemical Technology |
| | "It's not necessary to have a B.S. degree to be a chemical technician. In fact, many companies prefer to hire technicians with an associate degree in chemical technology." |


"As a senior research technologist, I work with a Ph.D. chemist. My current job is in applied research in films processing. The films we work on are high performance materials for electronic applications. Part of my job is to characterize the films using differential scanning calorimetry which tells us what happens to the film during heat changes. I also do thermogravimetric analysis which helps us identify decomposition temperatures in nitrogen and air. In research, things are different each day. I enjoy the variety of my work, the opportunity to be involved in different projects, and seeing them through from beginning to end.

It's not necessary to have a B.S. degree to be a chemical technician. In fact, many companies prefer to hire technicians with an associate degree in chemical technology.

I advise students to think of this job as a career. There's a lot of opportunity in this field. Technicians work as part of a team where everyone must have good computer and communication skills. There's also the expectation that technicians will take a significant role in the project and do complex work. This makes the job rewarding and satisfying."