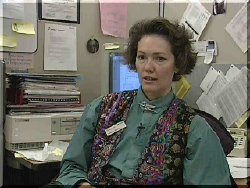 Kimberly
Wiefling
Manufacturing
Engineering Project
Manager
Hewlett Packard
Company


B.S. -- Physics and Chemistry (double major); Wright State University
M.S. -- Experimental Physics; Case Western Reserve University
Manufacturing Engineering Project Manager, responsible for supporting the product introduction of a new mass spectrometer.
"I think the single most valuable thing that I did during my education was to get some real world experience. It's very difficult to differentiate yourself from the many other resumes and qualified candidates on paper, just on education alone."
"Go out there and get some real experience. Network. Collect people's names and phone numbers and business cards and keep your electronic Rolodex up-to-date and call on those contacts."


Wiefling: "Right now I'm responsible for supporting the product introduction of our new matrix assisted laser desorbtion ionstation tunnel flight mass spectrometer. We just call it Malditoff Mass spectrometer -- and this is a new product that we purchased from a company that developed it in Reno. Most recently my responsibilities have been to facilitate the transition of non-HP product into our organization and give day-to-day support of the production line and prepare this product for on-going routine in factoring here. So that involves a lot of different things. One thing it involves is that we have to know how to make the product routinely. So we have to get proper documentation and capture the recipe. Because this was developed by an outside company and the engineers are no longer with us, the people who first built them are no longer with us, that's very critical."