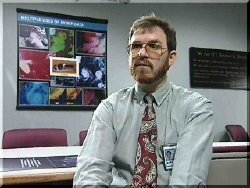 Mark Tritch
Project Engineer
ITT Aerospace /
Communications
Division

| | |
| --- | --- |
| | B.S. -- Physics; Manchester College |
| | Project Engineer, leading the test team for the GOES satellite instruments. |
| | "I applied to a number of different places and interviewed at a number of different places but in college I had -- through our local Physics Department -- a tour of ITT and really enjoyed what I saw here. So I kind of made it a goal to spend extra time trying to get in ITT's door." |


Tritch: "The GOES Satellite is a weather satellite. There are two instruments on the satellite. And imager and a sounder both of which are built by ITT. The imager is the instrument that supplies the pictures that you see on 6 o'clock news at night. It also takes pictures in infra red as well. The sounder is the science instrument. It creates a 3-D profile of the atmosphere and a number of other data used for weather prediction. The GOES System test teams are responsible for the testing and calibration of the system level of the GOES instruments. And that job involved dealing primarily with the optics and electro optics which kind of fulfilled the goal that I'd had to work in that area. After I had been working there for a very short time, the engineer who was leading that team went to another position at ITT and I became the leader of that test team."



Tritch: "I knocked on ITT's door. I applied to a number of different places and interviewed at a number of different places but I had, in college, through our local Physics Department, a tour of ITT and really enjoyed what I saw here. So I kind of made it a goal to spend extra time trying to get in ITT's door. There was student who graduated before I did who was already working at ITT and so I kind of worked through him to help him fine-tune my resume and he knew some contacts within the company, and through that I found a position here at ITT."

Tritch: "One of the biggest frustrations is sorting through a technical problem. They do come along occasionally. They're to be expected when you're working with relatively dense technology. But you're always frustrated when you find them. There's always one more piece of data you wish you had or one more test you wish you could run. That's the sort of thing that forms most of your frustrations."