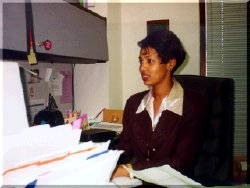 Carlane J.
Pittman
Director for Outreach
Department of Physics
Hampton University

B.S. -- Physics; Spelman College
M.A. -- Education; Hampton University
Director for Outreach, coordinating, developing, and maintaining the outreach efforts of the Physics Department, recruiting students, and advising students on their curricula.
"My primary interest in physics outreach programs is to provide support, encouragement, and information to underrepresented students."


"This job is extremely exciting and challenging because it allows my creativity to blossom when I develop educational programs for students. Seeing students benefit from the research and education they receive at Hampton makes my job worth all my effort. I have always enjoyed working with large numbers of people. In my job as Director of Outreach, I am also a liaison between the students and faculty. I have an advantage in this capacity since my undergraduate education was in physics and my work at Hampton is classified as non-teaching faculty."