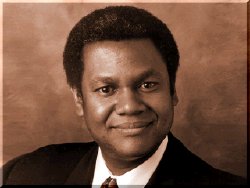 Anthony M.
Johnson
Distinguished
Professor/Chairperson
Department of Physics
New Jersey Institute of
Technology


B.S. -- Physics; Polytechnic University
PhD -- Physics; City College of the City University of New York
Distinguished Professor and Chairperson
"I have the daunting challenge of chairing the Physics Department, teaching, conducting research in the field of ultrafast optical phenomena, professional society activity, and managing the 1300 Optics Letters manuscript submissions I receive per year and Editor-in-Chief."


"As a junior at PINY, a professor encouraged me to apply to a new summer program at Bell Laboratories -- the Summer Research Program for Minorities and Women. It was a pivotal point in my career; I had never even heard of Bell Labs, prior to this. During that summer, I performed laser experiments that marked the beginning of the field of picosecond optoelectronics and I published my first technical paper in a peer reviewed journal. My advisor became a mentor and colleague throughout my life. I conducted my Ph. D. thesis research at Bell Labs. When I received my Ph. D. in physics in 1981, I was one of four African-Americans to receive a doctorate in physics that year in the U.S. That summer experience at Bell Labs was the critical event in my career. Before that summer, I had a minimal interest in optics and lasers. Now it is my chosen career and profession!"