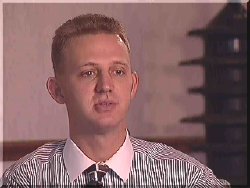 Craig Redding
Project Manager
H.O. Mohr Research
& Engineering
Houston, TX



| | |
| --- | --- |
| | BS, Mechanical Engineering, Texas A&M University |
| | Project Manager, involved with mechanical analysis, design, fabrication, and testing of offshore oil drilling and production equipment, plus the development of proposals and interaction with clients. |
| | "In college they don't teach you how to act in an office environment, or even how to act when you're offshore on a platform. They don't teach you how to communicate effectively with people, and so that's some of the things that you learn every day. But, most importantly, from college, it's not just learning the course work, but learning how to learn. If you learn how to learn you can go every day pick up on just about anything. If you can communicate and you know how to learn, you'll do well." |
| | "Work on communication and presentation skills, because success may often depend on the ability to make effective presentations to clients. Once on the job, an engineer must continue to develop his/her expertise, for this is the essence of an engineering services business." |


Redding: "In college they don't teach you how to act in an office environment, or even how to act when you're offshore on a platform. They don't teach you how to communicate effectively with people, and so that's some of the things that you learn every day. But, most importantly, from college, taking what you learned. It's not just learning the course work, but learning how to learn. If you learn how to learn you can go and every day pick up on just about anything. You'll know where to look for the answers. And when you pick up on the communications skills that you need -- which is talking on the phone, writing the basic correspondence and letters to people -- that is more important I think, so you can know where to look for things. If you can communicate, and you know how to learn, you'll do well."

Q: Craig, let me ask you. After you began your initial studies as an ME, how did you get into this specific area?


Redding: I actually didn't study as an ME. I am actually an ocean engineer by degree, but got into the mechanical-engineering side of things. I started out in pipeline engineering for another company, and then moved over. I had known Harvey Moore through the industry, and actually just moved over here to do some pipeline work and gradually worked my way into the mechanical testing side of it.



Q: So are you a mechanical engineer or, by degree, an ocean engineer solely?


Redding: I am by degree an ocean engineer. The mechanical background that everyone has, both civil, all engineers have the basic fundamentals. Statics, dynamics and mechanics and materials kind of course work. That basic foundation is the same for mechanical and ocean engineering. Now, I utilize mostly that basic stress analysis, which everyone knows. But I have specialized also to know ocean waves, wave forces and structures, current and windloadings and things like that. So I apply mostly, in my job, mechanical engineering, solely. There is some of my ocean engineering background that I do utilize here.

Q: So you've been out of school now, out of college, for about four years?


Redding: Two years. I graduated from Texas A&M in 1994. Actually, in August was when I received my degree.



Q: And since that time, in the two years that you've been working, has it exclusively been at the company you're at now?


Redding: No. I worked for J.P. Kenney, a pipeline-engineering firm. It was an office job. I would sit at my computer and my desk and work out some calculations and print things out. It really didn't appeal to me. I like getting outdoors and getting my hands dirty, and in a smaller company like H.L. Moore, you get to learn the business -- the project side, the proposal, the management of people and the management of the projects -- quicker than you would if you're starting on the bottom rung of the ladder in a big corporate-development office.



Q: Are you making more money now than you were two years ago?


Redding: Yes. When I made the move from J.P. Kenney, I took a sizeable increase in salary. And since, I have done well here at H.L. Moore and have continued to see increases in pay.



Q: Do you think that what you're being paid to do your work here as an engineer is commensurate with the time and effort that you put into receiving an education?


Redding: Absolutely. I'm a little different. I come from a blue-collar working family. Growing up, through high school, there were several jobs I worked; union jobs, loading trucks, teamsters. My dad's been in the union for 20 some-odd years. And so the philosophy that my family had was, "Maybe you're wasting your time, you're reading books and you're not getting some hands-on experience when you could be out working and making money." And my salary actually is something, if I were to go to school, I never would have thought I would make what I'm making today even after going to college. You know, two years after graduation, I thought maybe ten years after graduation I'd be where I am. And so college has really changed not just the structure of how that will increase, but also it changed the philosophy that I had been raised in. And there were times when I thought that the pay should be based on the amount of physical work that you put into the job. Here it's more mental. I'm in a job that pays straight-salary pay. I don't get paid for overtime, so it's tough coming from a union background to work 60 hours a week and get paid for 40. My family still doesn't understand it. I can't communicate to them what that means and why I would do that, but I'm in here a lot of times till nine o'clock in the evening. I come in on weekends to finish things up when I've had plenty of work.

Q: How many women work at H.L. Moore?


Redding: We don't have any female engineers. We do have some technical, and then we have a large staff of secretaries now. We've got five secretaries, all women, and then we've got an office administrator, and there's two technical staff. One of them is a sales type, for selling engineering jobs and getting proposals.



Q: So for whatever reason it seems that at least at this company now, women are a support side of the operation, by and large.


Redding: Right. This job is a little different than the last job I had had. Out of 60 people, we had 13 female engineers that worked on staff, and then we had a staff of support, the secretaries.



Q: In general, do you think that in the world of being an engineer, women can advance as quickly as men can?


Redding: I think for women, it's all potential. If they think that they can move up, and they've got the ability to do so, they've got to go out and get that. They can't expect to just be moved up due to experience and things like that. Just like any other man or woman it's independent of sex, race or any other kind of thing. It's ability and potential.

Download Full Profile as PDF