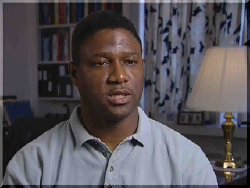 Rodney Wallace

Senior Consultant
NCR
Rockville, MD



B.S. - Mathematics, University of Georgia
M.S. - Applied Mathematics, Southern University
Senior Consultant, working with the Government Systems division providing information technology solutions to customer problems.
Rodney finds working out of his virtual office at home gives him the flexibility to decide how he splits his time between work and family.


Wallace: "As a math person coming out of school, I think one of the things we don't really see as how we apply our math skill set to the work world, and I think what industry folks are looking for and especially myself, I'm looking for a person who has ability to think analytically, and not necessarily be able to solve a very complex math equation but be able to think logically, and that's what math programs typically do for students. The opportunities are overwhelming in terms of how you apply that analytical talent. For example, coming out of school for me, they were dying to get their hands on math people because they're the ones that clearly understand how you model various physical behaviors. Or they understood the math at least. Now you need to overlay that with some computer talent. That's a natural for a math person."

Wallace: "Typically, I have at least three or four conference calls where I am talking to team members. We might be talking or working on strategies on how we help a customer solve a particular problem. We are proposing solutions to a customer, and we typically do that through virtual mail and email. And a lot of travel. Typically, half the day is here doing administrative things, and the other day is out there going, visiting the customer sites, and when I'm delivery mode, I'm actually doing work for the customer. And when I'm in selling mode, I'm first of all selling our folks on selling them on why they need to sell these consulting services. Or I'm selling to the customer one on one."