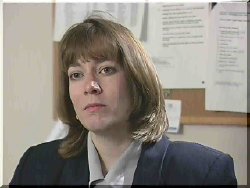 Maleah Rhodes

Associate Consultant
Towers Perrin
Cincinnati, OH



| | |
| --- | --- |
| | B.S. - Mathematics, Bethany College |
| | Associate Consultant, consulting with companies on the design of benefit programs. |
| | As a senior in college, Maleah became interested in a career in actuarial science and for her senior project she developed a curriculum for her college to prepare students for a career in that field. |
| | "What's interesting about the consulting field is that there is no end path. It's a field where there's continual growth opportunities and it's up to you to decide where you want to take the job." |


Rhodes: "An example of a problem that we might be given is to help a client determine their employee contributions, say, for the following year, or to help an employee set their, what we'll call premium rates for their medical plans. And so what we will do is we'll gather historical data, maybe two, three years of actual claim experience and enrollment patterns, and we will take that experience and we will project it forward looking for trends in the past, making adjustments for plan design changes which are really fractions, you know, different relative values for plans that are changing. Projecting cost forward, using spreadsheets, you know, maybe doing a five year forecast, developing the trends the, the health care trends that we should be using for that and making a lot of different assumptions."

Rhodes: "I usually start by seven o'clock and my first half hour is pretty much spent in, I would say, a planning mode. 7:30 it's -- 7:30 to 9:00 is usually my quiet time. That's my productive time to really get into a project and really focus and make some accomplishments on the projects that I'm working. And then about nine o'clock phone calls start ringing and the clients start calling and, you know, people start coming into our -- my office, looking for help or guidance or with questions or wanting to have meetings. We have a lot of meetings. I do not spend my entire day in my office all alone. I'm very often going from meeting to meeting, either with clients, outside of the office. Or, maybe we'll have a client meeting in the office or internal meetings on planning purposes organizational meetings, specific project meetings, brainstorming meetings, as to how we're going to deal with a client issue."


"I didn't actually start out as a math major. I entered college as a freshman as a chemical engineer major. And after three semesters of chemistry and starting with organic chemistry, I decided that maybe I didn't really want to be a chemical engineer. So I decided at that point that I had so much mathematics with three semesters behind me, and a lot of math required for chemical engineering -- that I decided that I would just become a math major."

"Within the next five to ten years, I guess I see myself first of all, finishing my degree. I really want to complete my MBA degree and by doing so, that will really enable me to continue to understand my client's needs better. Who knows? I think what's interesting about the consulting field is that there is no end path, there is no end door of where you achieve, it's a field where there's continual growth opportunities and it's up to you to decide where you want to take the job."