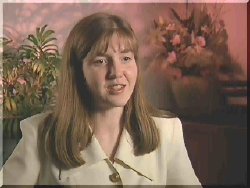 Carla Martin

Consultant
Price Waterhouse, LLC
Bethesda, MD



| | |
| --- | --- |
| | B.S. - Mathematics, Virginia Polytechnic Institute and State University |
| | Consultant, providing a range of consulting services for client businesses. |
| | Carla likes the variety that comes with working for a consulting firm where she works on different projects, depending on the needs of the clients. |
| | "Get an internship because even though you can like certain areas of mathematics more than others, an internship will help you understand the type of area that you're interested in working in, whether it be research or industry, business." |


Martin: "Basically, I'm a consultant for Price Waterhouse. And consulting is a type of career where you're not actually a specific -- you don't have a specific position. In other words, you work on all different kinds of projects, depending on what clients want. The particular group that I work with at Price Waterhouse is called the Management Analytics Group. And most of the people in my group of quantitative backgrounds in math or statistics. We actually have some with economics. But mostly some sort of quantitative background."

Martin: "I think it's a very good idea to get an internship because even though you can like certain areas of mathematics more than others, an internship will help you understand the type of area that you're interested in working in, whether it be research or industry, business."

Martin: "I was very, very unfamiliar with how even, you know, little office procedures worked and how to even use my computer, you know, very simple things like that. And, you know, going from there to a year later starting to actually manage my own projects was quite amazing to me. I couldn't believe that I was managing at such an early age and so early in my career. And actually, right now, I'm managing five different projects. So I think that what's really good about this company is they push you and really encourage you to go towards to your potential, no matter how many years you've had at the company or anything. But it's more based on past performance."