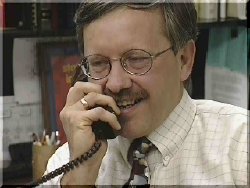 Stanley Gable

Section Supervisor
Eastman Kodak Company
Rochester, NY



B.S. - Mathematics, University of Detroit
M.S. - Mathematics, University of Detroit
Section Supervisor, heading of a group providing internal statistical training in the Quality Technology and Applied Statistics division.
During Stan's career at Kodak, he has spent much of his time doing quality and statistical training, which has included trips to Kodak plants in Guadalajara, Mexico and Asia.


Gable: "What's really interesting and this kind of goes against the laws of probability because when I was going back to graduate school, a lot of people said, 'What would you possibly do with a Masters in Mathematics?' I had no contact at all with Kodak, but for some reason, I thought, 'Well maybe I can work in a place like Kodak,' for no apparent reason I had that in the back of my mind. I didn't do anything in particular to single Kodak out. It was one of many companies I pursued or sent letters to but it turned out to be one of the few that I got responses from and I ended up being here. So it's a bit of a coincidence."