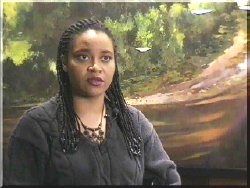 Debra Williams

Environmental Quality Specialist
City of Austin
Austin, TX


BS, Texas A&M (Geology)
MS, Texas (Geology)
Environmental Quality Specialist
"Focus on who you want to be and it can be achieved depending on how badly you want it."


Williams: "And as an EQS (Environmental Quality Specialist), I work with zoning, doing environmental comments for the city. I also look at plans that come in for proposed development in different water sheds throughout the city from rural to water supplies -- suburban water sheds -- the sensitive Barton Springs Zone."

Williams: "I think a lot of the obstacles are just preconceived ideas that people may have about the capabilities of women or minorities. And it's a matter of having the self-confidence to pursue despite other's perceptions of you. And that's tough because we're inundated with criticism and information about what we should be, what we can do, who we can be, and it's sometimes hard to isolate who you are separate from that and say, "No, this is who I am and I'm going there." And focus on who you want to be and it can be achieved depending on how badly you want it."

Williams: "And, my reason for joining most organizations is an effort to replace myself. A lot of times we get very focused on advancing ourselves, but we don't look over our shoulder and see who's coming behind us, male or female. And in the geosciences things are changing. Things are changing all over the world for what is required of geologists and the emphasis we need to put on how we interact with the public, because everything we do affects the public. And every time I work with an organization, whether it's for science fair, or whether it's through some kind of scholarship award or just taking a bunch of kids out into the field to take a look at fault or a bluff or a water shed or to take water samples, I think amongst this group could be another geologist. Amongst this group could be someone who could get really turned on to their environment, and start a recycling program in their neighborhood. You never know when you're going to affect someone and so I'm always thinking that if someone's looking at you from the outside in, they may see themselves and they make want to make an impact. And that's the way I balance things."