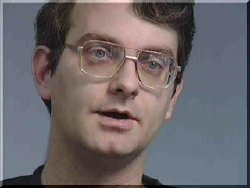 Landon Curt Noll

Cryptologist/Number Theorist
Silicon Graphics, Inc.
Mountain View, CA


B.S. - Mathematics & Physics/Computer Science, Linfield College
M.S. - Electrical Engineering, Stanford University
Senior Technical Member of the Silicon Graphics Professional Service Communications practice team, specializing in designing and tuning high performance Netnews servers.
"The best time to send out resumes is February to March of senior year. Very few students send out their resumes at that time, so companies are more likely to pay attention to the ones they receive."


Noll: "Good headhunters are the ones that will sit down and interview you, work with the employer, handle all the salary and that kind of issues, out ahead of time. The way to spot a good headhunter is first of all, good headhunters won't charge you, the college student, anything. The second thing is they'll spend the time to get to know you well ahead of sending you out on job interviews."

Noll: "The thing that a college student can do now is first of all use the web to start scouting out companies in the field you are interested in. Know the companies; know what they are doing; know the products. Look for people on the net who are speaking about what the company is doing."


Landon Curt Noll of Silicon Graphics believes that a key to getting hired is making oneself stand out from the rest of the candidates. There are a number of strategies one can follow to get noticed.

Noll tells students that the best time to send out resumes is February to March of senior year. Very few students send out their resumes at that time, so companies are more likely to pay attention to the ones they receive. The second best time would be in the fall. Noll advises students to avoid the May-June period. So many resumes arrive at companies at that time of the year that they end up in a pile. December, with the holidays is another bad time to send out resumes because employers are distracted by their own personal commitments.

Another good strategy to follow is to find a contact in the companies that seem appealing. Contacts can be made through professional organizations, such as IEEE. Noll thinks that coop programs are also a way to make contacts, but they are not an option that is available to everyone. "Fortunately, the web provides you with an outstanding tool. So, while you're at college, you should be visiting company web pages, finding out what the company is about. You should be scanning news groups." Noll suggests that students read what is being posted in the news groups of interest to them, and then send questions to the people who are posting messages. This is a way of getting to know people in one's field.

A third useful strategy is taking on independent projects, "particularly those that are not assigned to you by your professor." Companies are looking for engineers who show initiative. "There are a number of people who will go through school, do very well, get very good grades doing as they're told, turning in assignments. In a company like Silicon Graphics, those people aren't as useful as the ones who just can't wait to go and work on the next piece of equipment." Noll encourages students to take on special projects on their own. "You should be able to go to an interview and say, `Not only did I do my assignments and the things I was told to do, but I also showed interest and branched out in a number of different areas.'"

Noll offers some techniques for successful interviewing. "The way to survive interviews is to always answer a question as directly as you can and then follow it up with a question of your own." It is not necessary to know the answer to every question. "As soon as you're asking the relevant questions, you'll have the person interviewing you talking more than you will. They'll come out saying, 'Gosh, that person's real sharp; they asked all the right questions.'" The trick is to show animation and intellectual curiosity. "That sort of live person goes a long way to being noticed."