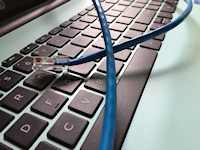 Profiles of Computer Scientists are available on this site to provide insight into the activities, educational preparation, and daily challenges of individuals working in the field of Computer Science. Profiles include students, those just starting their career, and those who have been working for decades. They cover a variety of career paths and educational backgrounds. All offer PDF files profiling the individual and including an interview. While these are useful tools for glimpsing into the working lives of Computer Scientists, it may also be helpful to network with professionals who can provide even more input, or answer your specific questions. Bear in mind that these profiles are simply snapshots of Computer Scientists at one point in their career. It is likely that these people have moved on to other jobs, perhaps expanded their education, or made other changes since the profile was created. These individuals are not available for individual contact, but have provided candid descriptions of their education, work experiences, and career paths. You may select a profile by name, job function, company, or geography, and may view online or download a PDF file.

Profiles of Computer Scientists

Name
Company
Job Function
State
Online Profile
Davis, Kimberly
Texas Instruments
Software Configuration Management Engineer
TX
Online Profile
DeCuir, Joseph
Microsoft Corporation
Program Manager - Modems
WA
Online Profile
Fernald, Geoffrey
Acuson Corporation
Manager, Advanced Development Hardware Design
CA
Online Profile
Hartman, Bradley
Walt Disney Imagineering
Senior Systems Engineer
CA
Online Profile
Paulette January
DRS Technologies, Inc.
Senior Software Quality Engineer
NJ
Online Profile
Jeffers, Sandee
Southwest Research Institute
Group Leader
TX
Online Profile
Krzyzanowski, Paul
Lucent Technologies
Principal Engineer
NJ
Online Profile
Noll, Landon Curt
Silicon Graphics, Inc.
Cryptologist / Number Theorist
CA
Online Profile
Oeth, Lee
Qualcomm, Inc.
Senior Engineer, Quality Assurance
CA
Online Profile

TASC, Inc.

Systems Engineer

VA
Online Profile
Sabolcik, Ross
National Instruments
Senior Software Engineer
TX
Online Profile
Note: Some resources in this section were originally prepared as part of the Sloan Career Cornerstone Series CD-Rom "Careers for Electrical Engineers and Computer Scientists."