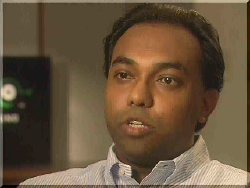 Wilfred James

Network Implementation Manager
Toll Free Cellular, Inc.
Seattle, WA


| | |
| --- | --- |
| | B.S. - Electrical/Computer Engineering, Oregon State University |
| | Network Implementation Manager, working with carriers to sell them services and network solutions. |
| | "You need to be able to work with other people. Different people have different ideas on how to do something. You need to bring your own idea across in such a way that you're not imposing your ideas on other people, but sharing ideas." |


James: "A lot of students don't do enough research and, and that doesn't look very well during the interview process. Try to find out a lot about the company. You know, try and find out what are some of the positions that are available, some of the positions that you think you might be in a good fit for you. So when the interviewer, you know, interviewed me during my time slot, the interview went really well, I had a good dialog with, with the interviewer, we, you know, I had some questions for the interviewer which is very good because normally it's a one-way street and that speaks well because it's, it's shows that you have done your research and you are interested in the company."


As a network implementation manager at Toll Free Cellular, Wilfred James gets to wear many hats. He spends about two-thirds of his time on technical issues and one-third on project management. Among other tasks, his work entails marketing, design, scheduling, and testing of the service they provide to cellular phone companies. Because cellular technology is constantly changing, he must also stay ahead of the improvements customers are likely to make in order to have at hand applications that will interface with them. "It's intense, but it's pretty exciting. It gets you there you know, on the cutting edge of technology which is what I like."

James' initiative and assertiveness come in handy at a start-up company like Toll Free Cellular. There are several qualities that James considers indispensable to work at a new venture. "Definitely, you need to be able to work with other people. Different people have different ideas on how to do something. You need to bring your own idea across in such a way that you're not imposing your ideas on other people, but sharing ideas."

Another crucial quality is the ability to take a lot of risk. James explains, "I think one of the problems with companies today is that they don't have people who want to make a decision - because, if it's a wrong decision, they're going to be accountable for it. Well, in this day and age, with things changing dynamically, you really have to make a decision based on the information you have when a decision has to be made." As a result, the next quality necessary to work successfully at a start-up is flexibility. James points out that the engineer has to be able to accept that false starts are inevitable and "change in the direction where the industry is moving. Change in the direction where your customer is going."

The final quality that James considers essential is the ability to manage one's time and put in long hours. "There are going to be times when you don't work 8 to 5, you don't work forty hours a week. You might have to work sixty hours a week; you might have to come in on weekends because you just have to get the job done. And being part of a start-up company, you're on venture capital which means you have a certain pot of money that you have to work with." Consequently, the minimum number of people are hired, which can result in long hours for everyone when a job has to get finished.

Start-ups have drawbacks, but they also offer opportunities that established companies do not offer. The key is to know what one is willing to compromise before negotiating one's compensation package and to be assertive enough to express what one wants. "Can you compromise on salary? Can you compromise of stock options? Do you compromise on vacation time? Do you compromise on medical, dental, vision benefits?" James points out that "most start-up companies will negotiate with you" and adds that "when you're in the process of interviewing and negotiating your position, that's when you have to present to the interviewer and your supervisor what you are willing to compromise on" because everyone has different needs and wants.