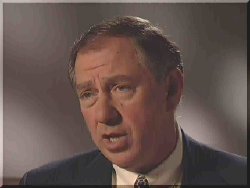 C. R. (Chuck) Pennoni, P.E.

CEO
Pennoni Associates, Inc.
Philadelphia, PA


B.S., Civil Engineering, Drexel University
M.S., Civil Engineering, Drexel University
"As Chairman and CEO of Pennoni Associates, Inc., my duties include the establishment and administration of corporate policy, business planning and budgeting, and the coordination and oversight of the programs and initiatives developed and implemented to achieve corporate goals."
"Learn a second language, work and study in another country and by all means acquire a master's degree. It is important to learn how to learn and to acquire as broad an education as possible, including work place and cultural experiences, and then to proceed to post graduate education in your area of interest, recognizing learning is life-long."


"We in our long range plan, look to do more work globally for a number of reasons and in order to support that, when we're hiring we try to hire people who are willing to travel, willing to work in other countries and other cultures and hopefully are bilingual or multilingual. There's not that large a work force in the United States today that will meet that criteria but we've been successful in getting some of the work force in our firm that would be willing to do that."
"When I graduated from college, I was trained technically and economically. And then I saw the environmental concerns come into the work place so I had to be sensitive to environmental concerns. And then the public started to get very involved in projects. When the public got involved, the politicians got involved because the public would turn to their, their government and say why is this being done and why is it being done this way? Or why is it being done here? And once the politicians got involved and the public and the legal profession got involved representing both sides, then aesthetics became a big issue as well, and because of tight budgets and government, financing. Not just the economics but the financing."
"While in college, students should take the opportunity to work in the area where they think that they want to pursue a career...I can't stress enough the importance of getting into the work force and really experiencing what you think you want to do while you're in college."
"We are truly in a global economy, and the engineer going out into the work force today may be expected to work with people from other countries who are here in the United States or may be expected to travel to other countries representing the company, the United States company for which they would work. So they need to have an understanding of the differences in cultures, how people communicate, how they live, how they speak."
"So the combination of a degree in engineering, four years of internship, passing the fundamentals of engineering exam, eight hour exam, and the principles of engineering exam, another eight hour exam, then allows you to become a licensed engineer in whatever jurisdiction you were tested. Now in the 55 jurisdictions in the United States -- that's the 50 states plus five others which are Washington, D.C., Puerto Rico and so forth, there's a lot of portability with that. If you meet the basic requirements, you could essentially apply to other states and get a license in the other states. But that licensing is very important if you want to be in private practice where you are directly dealing with the safety, health, and welfare of the public."
"There are more engineers today or more students today that are getting that first degree in engineering and then going on to something else, whether it's law or medicine or getting advanced degrees to go into research or education. The financial world has discovered engineers in recent years and you find a lot of engineering graduates working on Wall Street and working in the financial world. I have a friend who is a graduate from RPI in electrical engineering who right out of college went to work for Chemical Bank and has moved up the ladder at Chemical Bank and is a vice president of Chemical Bank. And he says that his familiarity with numbers and his training to identify problems and solve problems is what helped him quite a bit in the financial world."

Q: What's your biggest project that you're doing right now? Or the most interesting?


Pennoni: The most interesting project we're doing right now is in Japan where we have an operations and maintenance contract on an air force base where we do all of the operations, maintenance, testing, repairs for a fuel depot. And that's jet fuel for jet planes. So that is a real high tech operation and it's really interesting and challenging.



Q: Where did you go to school, where did you get your training?


Pennoni: I have a Bachelor's of Science and a Master of Science in civil engineering from Drexel University here in Philadelphia.



Q: Is Drexel a really major supplier for this kind of work?


Pennoni: Drexel University is over 100 years old and the university is about 10,000 students, of which 45% are engineers. Engineering is the largest college at Drexel University. The area relies on Drexel quite a bit for a supply of engineers and Drexel prides itself in the fact that it places all of their graduates because of their cooperative program. Engineers who graduate from Drexel have essentially two years of experience upon graduation because they serve an internship in the cooperative program at Drexel and that really makes them very employable in the work place.



Q: Tell me more about the importance of doing a coop. For instance, if you're evaluating a new hire or in light of your own experience with engineers.


Pennoni: When Pennoni Associates is looking for an engineer to add to our staff, we look for a number of things. Besides looking for the education, the quality of the education and the area or discipline of the education, we also look for someone who has experience. And that experience is usually gained through a cooperative program such as Drexel University's. Drexel is not the only a coop school in the United States; Northeastern and Cincinnati are also cooperative education schools. We find that that experience is very, very important in coming into the work force because it allows the engineer to be productive from the first day on the job as opposed to going through an orientation and training program. So although we don't hire exclusively from cooperative education schools because we recognize we should have a good mix in our work force, we do look to Drexel quite a bit for graduates because of that internship that has been achieved.

Q: What issues are there that engineers have to be aware of today and what would your advice to students be?


Pennoni: As an engineer/businessman, one of the things you must be very concerned about is professional practice and ethics. I always like to say ethics, like law and morality, change with time and geography. For example, at one time it was unethical for engineers to bid for work but that was taken out of the code of ethics in the seventies and today bidding is not unethical. It was unethical to advertise in a self laudatory manner. Again that was removed by t he Department of Justice from the code of ethics of all the professions, lawyers, accountants, architects, engineers and so forth, and today you can advertise in a self laudatory manner. What is ethical in the United States or unethical in the United States may not be unethical in another country. And you've seen it with law and morality as well. Gambling is a classic example. Not many years ago, almost every form of gambling was illegal. Today states have their own lotteries and so forth and so on. So it is a very complex issue. Engineers focus an awful lot on ethics and professionalism. Where you find it is in the classroom. You find it in your state board examinations and you find it in your involvement in your professional societies and professional organizations. So engineers are bound by very strict code of ethics and code of conduct. And it's monitored, it's monitored by the professions. So you want to make sure you understand it, you should study it. There are courses available as you go through college. And you want to understand how to apply it and what to do and what not to do.