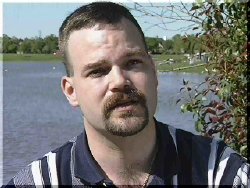 Kelly D. Payne, P.E.

Project Engineer
HDR Engineering, Inc.
Austin, TX


B.S. Civil Engineering, Texas A&M University
M.S. Civil and Environmental Engineering, Cornell University
"As a Project Engineer, I work primarily in water resources and systems analysis. My experience includes analysis of large river and reservoir systems, water rights, groundwater/surface water interaction, hydraulic and hydrologic systems, and waste/wastewater system analysis and permitting."
"Take an extra technical writing and/org speech communications course in school. It will serve you well in your career."


Payne: "The happy enlightenment for me was when I found a job doing what I was studying. And found out that people actually are -- that the stuff we're doing in school isn't for academic sake, but it's actually happening in the real world."

Payne: "We've got to talk with city councils and we have to talk to river authorities and lay people that don't know engineering terms or the jargon we talk. If I had it to do over again, I would take more technical writing, and more communications presentations type courses, because I've had to develop that on my own rather painfully at work."

Payne: "Be a sponge. Soak up all that you can soak up whether you feel it's really important or not because somewhere down the line it'll come back and it'll help you. Get involved in some activities outside of academia, because there you'll learn how to deal with people, you'll learn personalities are going to clash a little bit, and how to deal with that, before you get into an office where you're one of 30 or 40 people that have to work as a team."

Payne: "I looked at going into academia and originally went to grad school with that intention, but kind of got a little burnt out on school and I think eventually I will go back and do that. But I chose industry or consulting as opposed to government work because, in my opinion, the -- the consultants get the more interesting work."



Q: What is it that you actually do on your job?


Payne: I guess day to day I do what would generally be considered water resources engineering. I do computer modeling of rivers and lakes and water rights permits and things like that.



Q: How does civil engineering play into that?


Payne: Well, civil engineers are generally the ones who compute the hydrology, the quantities of water that are in the river, when someone that wants a new water right. We have to make sure that there's enough water in the river to supply them with water and not harm anybody else who already has an existing right down stream.



Q: What do you use in your job day to day which you might have learned in school?


Payne: The discipline, the hydrology courses that I took, helped me to relate rain fall depths, which are usually measured into runoff calculations -- the water that actually makes it from rainfall into the rivers. And once we've computed the hydrology -- that's called the hydrology for the river. Once we've computed the hydrology, then we know the volumes and the quantities of water and the time placement -- when that water is actually in the river and we can use that with existing water rights and kind of back calculate how much water's available and actually get the water they're interested in without harming anyone downstream.



Q: How does civil engineering play into what's going on here today?


Payne: Well, around us today, we're doing something that civil engineers have been doing for about 20 years, maybe a little more, with the American Society of Civil Engineers, and that's called the Concrete Canoe Competition. Many people will give us funny looks when we talk about Concrete Canoes, but we actually can design concrete that will float and will form into the shape of a canoe. And I daresay, the best canoes -- the lay person wouldn't be able to tell if it's concrete or fiberglass or what the material is.

Q: What are the disciplines of civil engineering that come into play here?


Payne: Well, I guess the specialties in civil engineering that come into play in the Concrete Canoe Competition would be, project management -- the competition is -- part of the goal is to have the students learn how to manage and put together a time line and arrange for delivery of products that they need to build the canoe. There's structural engineering going on because concrete is a structural material, and most of the boats have some sort of a wire mesh or some sort of internal product in the concrete that helps hold it together. And then they're also just learning design ideas. How to take an idea that's on paper and actually go out into the lab and build it and make something that works. So it really pulls together quite a few of the disciplines of civil engineering.



Q: What do you like the most about your job, and then tell me what you like least.


Payne: OK. I guess the most I like -- what I like the most about my job is, when I went to graduate school, I studied water resource systems and environmental systems analysis. And that's basically modeling big reservoir systems, trying to optimize big water and water resource systems. And this job is one of the few in the country, I believe, that actually allowed me, straight out of school, to do exactly what I studied in grad school, which is big basin modeling, and big water resource projects and analyzing those on the computer. What I like least about my job is -- I don't quite get to go outside as much I'd like to. I probably get outside ten, fifteen percent of the time in my job, and I like being outside, and I'd prefer it was more half and half. But you take the good with the bad.