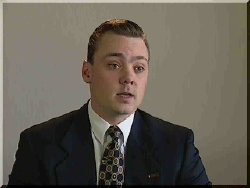 Michael W. Dawson, P.E.

Civil Engineer
Parsons Brinckerhoff
Sacramento, CA


B.S. Civil Engineering, University of California-Davis
M.B.A. Finance, Golden Gate University
"As a Civil Engineer, I am involved in transportation design, public service, public relations, marketing, and business development. I currently manage a website for a large bridge design project which allows me to learn about the project, manage documents, and utilize new technology."
"Civil engineering students should focus on getting a well rounded education. Include English, communications, and business courses in your electives. Consider an MBA degree which provides additional opportunities within engineering if you are not a "technical" person. Professional Societies are the best way to stay current, contribute to your community, network with other professionals, and have fun."


Dawson: "Networking has really helped me out a lot in my career, not only in finding new jobs, but in meeting contacts and helping out with marketing in my company."

Dawson: "Students that are interested in working overseas and working in other countries can do a lot of different things to prepare themselves. I try to stress to students that have different cultural backgrounds that if they speak a different language that's something they can really use to promote themselves. So languages I think are very important. It's difficult for entry level students and engineers to find jobs in the global market, the people that go overseas are senior management or very technical people that have been in the field for 10, 15, 20 years."

Dawson: "Our goal really is to provide cost-effective services in a very ethical manner for our clients, whether that be a local agency, a large agency, or maybe a little recreation department. Without civil engineers, the standard of life would be very different. You wouldn't have roads. You wouldn't have running water. You wouldn't be able to use our toilets and the sewer systems and bridges and airports."



Q: What about your undergraduate studies themselves? Why did you decide to zero in on a specialty?


Dawson: I decided once I'd been in school for about two or three years, I wanted to pursue structural engineering. As it turns out that's exactly the opposite of what I'm doing now. But when I was in school, I did some research for my professors and it happened to be in the area of structural engineering, dealing with concrete and structural design, and a lot of my peers were also taking structures. At that time, the California Department of Transportation had a lot of jobs available in structures and in transportation, so it made good sense to study that field because that's where the job openings were.



Q: Let's talk about the transition from school to work. Did you have co-op relationships while you were in school?


Dawson: When I first started school, I was able to get a job at a local restaurant, and I worked there full-time. However, in the summers for my junior and senior year, I was able to get two internships. One was with the Army Corps of Engineer. The other job was with a large construction company doing estimating, and the transition from work was pretty difficult. When I graduated, a lot of my peers had been hired the previous year, and so the job market was kind of flat. I was able to get some leads from a couple of professors. And eventually got a job with Caltrans about six months out of school. The transition wasn't too difficult. A lot of things that you learn on the job far surpass what you learn in college. College teaches you the basics, but once you get on the job, you're going to learn the specifics for your new position.



Q: Let's talk some about networking.


Dawson: Networking has really helped me out a lot in my career, not only in finding new jobs, but in meeting contacts and helping out with marketing in my company. When I left Caltrans and decided to go into private industry, I was very involved in one of the local professional societies, American Society of Civil Engineers, and through one my contacts in that organization, I was able to find a job and move into private industry.



Q: Could you talk about courses that you had when you were in school?


Dawson: Undergraduate work was very challenging. You'll find that in four years of college, you can only take so many classes. There's a lot of things that once you move into the professional world you realize, gosh, I wish I could have taken that class in college. I had to work full-time during school which a lot of people do. I was able to graduate in just a little over four years. I didn't have to take summer school once. Basically, I worked full, and certain times of year, like Springtime, it's a little more difficult to stay in the books. But for the most part, it was very challenging, a lot of homework, lots of tests, and lots of projects. So you have to really be dedicated to school because it's very important when you get out that you've really got a good comprehensive view of engineering.



Q: How about being guided towards a particular specialty? Did you have a lot of guidance?


Dawson: UC Davis in particular, we have a big career counseling center. You can go there, and they will give you ideas about what's available as far as jobs. As far as guidance, most of the professors at our school, and I know many of the other universities, are really open. They have open-door policies where you can go in and talk to them. They can give you ideas of what courses you need to take, what the job outlook is like.



Q: But in terms of deciding what you wanted to do?


Dawson: As far as my choice, especially, I kind of picked information from different sources, through my involvement in my professional society, through my professors, and some of it through my own research. It seems that you don't get a lot of that when you're in school. You find out once you get out in the professional world that there are so many other specialties, and other disciplines that you can go into. The one thing I can recommend is there's a lot of good engineering magazines out there, that are available at the libraries, on campus, or through the professional societies. And if you go through those, you can read a lot about the different disciplines that may excite people. Traditionally, at school, there's four or five disciplines. Water, sewer, soil mechanics, structural engineering and transportation, and students tend to focus in on one of those. But they don't realize that there's a lot of subspecialties under those that might be appealing to someone. So do a little research, go to the library, maybe reading some of the periodicals and journals will help you get a better idea of what's out there.



Q: How about other engineering activities that you took part in in school?


Dawson: As far as engineering activities, I worked full during school, so it was real difficult for me to participate as much as I wanted to, and now that I'm out of school, and I'm still affiliated with the engineering students at Davis, I try to kind of make up for that. I was a member of the American Society of Civil Engineers and also the Structural Engineers Association of California, and they do two main events throughout the year. One is the Concrete Canoe Competition, which many civil engineering students will know about because that's kind of a nationwide project, and also the steel-bridge competition. I was able to work on those a little bit. I wish I had had more time because it really teaches you a lot about working in teams, working with other students, working your professors, working with other professionals, and requires you not only to do a technical project, but you have to public speaking and writing that's really important when you get out into the field. A lot of employers are looking for well-rounded individuals, not just someone that can sit and crunch numbers all day.



Q: Can you talk a little bit more about how your undergraduate -- or do you think undergraduate civil engineering prepares you for a life in the real world?


Dawson: As far as being prepared, once you get out into the real world, civil engineering, it's very challenging, and it's a very dynamic field. It's changing a lot. Traditionally, engineers were very technically-oriented. They're very analytical people and they're used to doing a lot of number-crunching. Well, today's engineer is very different. Engineers today have to be well-rounded. You have to learn to deal with your clients, whether that's public or private clients, and the curriculum at most schools is so focused on the technical side that you very rarely have a chance to learn good public speaking skills or good writing skills. I did a little bit of that. Some of my electives were mostly in rhetoric and communications. So I felt that I needed a better balance of my writing skills. But there's only so much you can study in four years. The thing I can recommend to students is that professional societies will really help you with that, whether it's a civil engineering society, a community service organization, your church. Those are the things that are going to help you work on other little projects, deal with people, help your network, good public-speaking skills, and things like that.



Q: What's the most helpful part of your undergraduate experience that really effects you day to day here?


Dawson: The thing that my education gave me the most in my day to day work is a basic knowledge of how to find things. It may sound kind of strange, but there are a lot of different people that can memorize vast amounts of knowledge and can quote formulas. But what engineering taught me is to be resourceful. I don't have all my textbooks memorized, but I have the ability to look something up if I need it. So if I'm posed with a problem, say a transportation problem, or I'm a designing a freeway, and I need to know a requirement on a lane width, I know where to go, and college really taught me that, is to be resourceful, to find the information I need to be productive and efficient in my job.