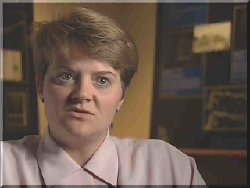 Lisa A. Brothers, P.E.
Vice President of Operations
Judith Nitsch Engineering, Inc.
Boston, MA


B.S., Civil Engineering, University of Massachusetts-Lowell
M.B.A., Northeastern University
"As Vice President of Operations, I oversee all the day to day operations of the firm. I am responsible for creating policies and implementing them with the other leaders of the firm to ensure that we remain profitable. I am also Principal-in-charge on the majority of JNEI's projects as well as Project Manager on select projects."
"Civil engineering students should take all the math and science courses they can while in high school and take advantage of any related summer job opportunities."


Brothers: "For the autonomy and the responsibility that I have here, to me money isn't everything. But I think you'll find out as you get along in your career -- I mean, I've taken pay cuts to do things that I want to do. So money isn't my major motivator. It never has been. To me, as long as I'm challenged and doing what I want to do that's more important. So I've never really pushed that, because that's not what's driving me for -- you know, why I work."

Brothers: "Everybody else has to deal with, you know, getting kids to day care, picking them up, dropping them off. And you'll find that more and more people, a lot of the men are doing the drop-offs or the pick-ups. In this company, for instance, three of the guys work flex time because they're in charge of one end of the pick-up. So it's not just a women's issue anymore. It's more, you know, both genders have to deal with flex time and being able to pick up their children and all that."

Q: What's a day like in your life?


Brothers: I really don't know what my day's going to be like because most of the time I'm on the fly. You know, problem solving, giving people support when they need it. Giving them technical advice. Reviewing projects, talking to clients. Working with accounting, making sure the bills go out. Making sure we get paid, calling for accounts receivable. The things that keep the operation moving. So I don't just strictly do engineering anymore. I manage fifty-something people.



Q: When did you decide to study civil engineering?


Brothers: I decided -- this is really actually an interesting story. I decided to study civil engineering. I was a junior in high school talking to my guidance teacher. I was taking an anatomy and physiology class. I was thinking of something in the medical field, you know, because it was a good course and stuff. And he said, well yes, you can be a nurse. And I said, well why not a doctor? And he was like, well, no, a nurse. I'm thinking, well, I don't know. And he says, well, if you really don't know what you want to do you should go to the local community college and maybe study business for two years, get an associate's degree, and then maybe you can figure out what you want to do. I was like, oh all right, whatever. Then I was taking typing. Typing was mandatory in my high school when I was there. And my typing teacher said to me, Lisa, you're good in math, you're good in science. What about engineering? And I thought about it, and because of her I researched what an engineer did, and basically applied to undergraduate school for engineering because my typing teacher suggested that was a good thing to do.



Q: You went to college thinking you would be an engineer?


Brothers: Yes. I applied for the civil engineering program. My favorite courses in school were structural courses. I really liked the structural analysis. And that was my major concentration, was structures. And then I got into the real work force and did that for about a year and it was something that wasn't right for me. I'm a person that always likes to be challenged and likes change. And after you designed one- and two-story steel frame buildings for a year it gets to be kind of routine. And the place that I was working didn't do other kinds of structures. So I decided to change and try something different.



Q: So that's when you came here?


Brothers: I did construction for three years for Mass Highway which was a real learning experience. Then I did some structural work. And then I did some civil site work which is where I met Judy, my partner. She was one of the principals at another firm and she chose to start her own firm. And when she announced that, I followed her in her office and said you cannot start your own company without taking me along. Because I knew that she would do great things and we would have a wonderful, viable company and I wanted to be a part of that. And now in my current position, since the company has grown from the two of us to fifty, I really don't do very much engineering anymore. I mostly manage people.



Q: Did your education prepare you for this work?


Brothers: I actually have a graduate degree. I have my MBA. I got my MBA when I graduated from my undergraduate degree I knew I wanted to go to graduate school. And I always knew that some day I would probably be part of senior management. So I went part-time nights. I was out of school a year, I was working. It took me five years, nights. And I use that all the time in my current position. It was really good -- between the two is really good training.



Q: Are there certain electives that you think students ought to take in thinking of your eclectic background?


Brothers: Absolutely. What I picked up in graduate school that I didn't get as an undergrad was interpersonal communication skills. Writing -- I took a really tough writing course. The teacher was wonderful. I think writing is really important. And I took some public speaking courses which I use every day. And there were typical things that you can't really take as an undergraduate engineering student, but I took some organizational behavior courses. And those kinds of things really make you think about communication and listening and how certain things interplay with each other.