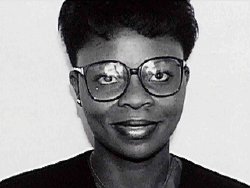 Omowunmi Sadik

Assistant Professor of Chemistry
Chemistry Department
SUNY - Binghamton
Binghamton, NY


B.S. - Chemistry, University of Lagos, Nigeria
M.S. - Chemistry, University of Lagos, Nigeria
Ph.D. - Chemistry, Wellongong (Australia)
Postdoctoral Research, Environmental Chemistry, United States Environmental Protection Agency; Las Vegas, NV
Assistant Professor of Chemistry


Environmental analysis traditionally involves analyzing air, water, soil, and other samples using expensive instrumentation in climate-controlled laboratories. This is a costly and time consuming process, especially when analyzing larger numbers of samples for the most minute quantities of toxic pollutants while maintaining strict accountability and controls to meet regulatory requirements. Thus, the importance of Omowunmi Sadik's research and development efforts at the Environmental Protection Agency's National Exposure Research Laboratory in Las Vegas.

Sadik is developing immunochemical sensors to study and assess the release of pollutants into the environment and to determine the extent of human exposure. These sensors contain antibodies immobilized in electrically conducting polymers, resulting in devices that detect and accurately determine the quantity of specific pollutants. In addition, these rapid-responding and low-cost sensors can be built into portable and highly automated instruments that can be used at hazardous waste sites.

To develop chemical sensors, one needs to consider the principles underlying the operation of the new device, a background in analytical chemistry, an understanding of the fundamental principles of the sensor, knowledge of chemometrics and data processing, in my case the integration of electrochemistry and immunoassay-related techniques, and for environmental analysis, an understanding of quality control and quality assurance concepts and practices, says Sadik.