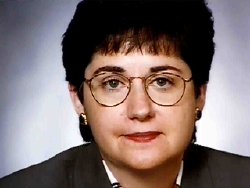 Cynthia Olson

Vice President - Technology
BetzDearborn Inc.
Trevose, PA


| | |
| --- | --- |
| | B.S. - Chemistry, Elmira College |
| | Vice President - Technology |


"I did research for nine years and now I work in marketing, says Cynthia Olson, director of technical marketing for Betz Paper Chemicals. People always say 'that must be a big change.' The truth is that it's not. R&D is research with chemicals. Marketing is research with people and money. You essentially bring the same thinking process to each."

Olson's employer supplies specialty chemicals to the paper industry which help keep the paper-making machines clean, running efficiently, and producing better quality paper. "Our business is based on improving our customers' processes," says Olson, "and my job means making sure we do this at every point between R&D and sales."

"As a woman in the paper industry, I was very much in the minority in the beginning of my career. But, I've never found this to be oppressive. I've come to believe that in working with men in this business, it's more how you can help them than who you are."