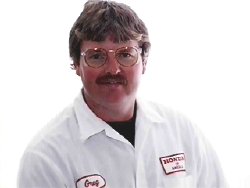 Gregory Morgan

Environmental Staff Engineer
Honda of America Manufacturing, Inc.
Marysville, OH


| | |
| --- | --- |
| | B.S. - Chemistry |
| | Environmental Staff Engineer in Environmental Chemistry |
| | "If co-op opportunities are available, use them to their maximum." |


Gregory Morgan is an environmental staff engineer specializing in lead environmental waste water and water. His job involves waste water monitoring, underground storage tanks, and spill/emergency response issues/activities for four manufacturing facilities. The latter includes permitting- reviewing proposed or draft permits, collecting analytical data to compare with proposed limitations, collaborating with the affected departments, and issuing comments to regulatory agencies; sampling; reviewing and compiling analytical data received from a commercial laboratory, generated from all manufacturing plants; treatability; problem solving; and addressing sudden or unplanned issues.

The environmental field is a very challenging career and involves solving complex problems. My greatest satisfaction, from my professional career, is knowing that I am trying to enhance the working environment as well as the environment for my children.

Morgan says that the best source of information in his specialty field has been from the school of experience. Prior to joining Honda, he worked as a chief chemist for a waste water treatment facility; he was then employed by industry working as an operating contractor for the military, first assisting with the development of a toxic chemical laboratory and then specializing in lead water and waste water before becoming manager of the environmental department of that company. Following that, Morgan worked for another company as an environmental specialist with an emphasis on waste water and water and later held responsibilities for regulatory tracking for business units within the company. For students, he recommends, "If co-op opportunities are available, use them to their maximum."