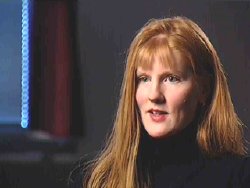 Kelly McDow-Dunham

Senior Research Assoc. and Patent Attorney Trainee
Procter and Gamble
Cincinnati, OH

B.S. - Chemistry and Cellular & Molecular Biology, University of Michigan
J.D. - Chase College of Law
Senior Research Associate and Patent Attorney Trainee in Organic Chemistry


"I'm attending law school in the evenings. I'm very much interested in pursuing a career in patent law. I really like the idea of being an advocate for the scientists. I think that background will be an excellent way to help out the scientists in that area -- in the legal area.

I'm working on a research project and I'm working towards the synthesis of drugs which will act against osteoarthritis.

So we'll go ahead and go through the syntheses, work out exactly what the synthesis will be for us to get to these compounds, and we'll make those, and hand them over to the biologists, and they'll test them for activity and we'll find out whether or not they're active or not. And from there we will begin making changes in the molecule to optimize their activity."