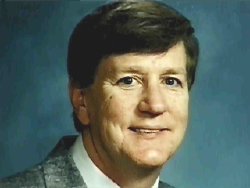 Dennis Marshall

Environmental Coordinator
Eastman Chemical Company
Kingsport, TN


| | |
| --- | --- |
| | A.A.S. - Chemical Technology |
| | Environmental Coordinator in Environmental/Organic Chemistry |


"Everything I do revolves around keeping our site in compliance with federal, state and local environmental regulations, says Dennis Marshall, technician associate and environmental coordinator at Eastman Chemical Company. Marshall spent many years as a process and development technician and a member of the technical staff in a manufacturing area. When a job opened in the environmental area, he took the opportunity. He says, "I knew the processes and the equipment. I knew where waste was being generated and how to work towards minimizing the waste."

One of my jobs is to monitor the total organic carbon that goes from the production areas and into the waste water treatment system. Every twenty four hours, samples are taken and GC analysis is done to look at individual organic constituents. Then, we look for new ways to get the organic constituents out.

Another area of my job is to come up with the material balances for the permits which govern the operation of our facilities. Being in compliance with federal, state, and local regulations is of utmost importance. I study new environmental equipment for use in our facilities, write and implement inspection procedures, and meet with inspection officials from the EPA. My job essentially enables the company to work in a full compliance situation. The job can be stressful and working on weekends is not uncommon as our site operates 24 hours a day."