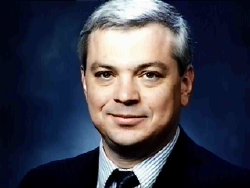 Gary Klecka

Research Scientist
Health and Environmental Research Laboratories
Dow Chemical Company


B.S. - Microbiology, University of Texas-Austin
Ph.D. - Microbiology, University of Texas-Austin
Research Scientist in Environmental Chemistry


As one of the largest chemical companies in the United States, Dow makes chemicals that are used in everything from plastic to paint and glue, to shampoo. Gary Klecka, one of the senior scientists in its environmental research lab, is responsible for supporting these products from an environmental perspective. His job is to understand how chemicals need to be handled when they are being transported, how to store them safely, and how to clean them up should they enter the environment.

As a lab, we work on the issues the company is facing at the time. In the mid-1980s, we were very concerned with groundwater issues and developing remediation processes for groundwater. Recently, he says, the lab has been focusing on the fate of chlorinated solvents in groundwater, studying how microorganisms degrade chemical contaminants.

Fifteen years ago, we believed these chemicals were persistent in the environment. But now, we believe they are not- that they do degrade through various mechanisms. We use these conclusions to support a wide range of chlorinated solvent products used in metal finishing, paint removal, and dry cleaning solutions, and to help us develop entirely new strategies for their remediation.