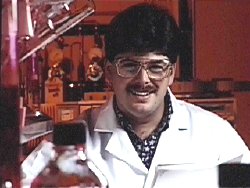 Scott Harvey

Senior Research Engineer
Lonza, Inc.

B.S. - Chemical Engineering, Pennsylvania State University
M.S. - Management of Technology, Lehigh University
Senior Research Engineer in Research & Development
"Many projects require new skills, and on-the-job training contributes greatly."


Scott Harvey is a chemical engineer in the R&D division of a specialty chemical production company. His job involves transferring new or improved chemical processes from the bench scale into commercial scale equipment. It's a job that provides him, he says, with the satisfaction of seeing an idea carried from the lab to a commercial plant. Harvey began his career focusing on reaction calorimetry, but as his job responsibilities grew, he began to work in all areas of reaction engineering. An aspect of my job that I really like is that projects vary, depending on the type and stage of the process. Each project has unique challenges and requires new skills, and can involve bench-top experimental work, report writing, technical presentations, production-scale trial batches, and work in the plant to solve process problems.
Much of my time is spent trying to solve unique problems. I also like that- the idea of doing something no one else has done. My work is critical to the success of projects, says Harvey. "And good communication and teamwork are critical in my work. Process or technology development and transfer requires knowledge of a broad range of subjects. It is a complicated process, and although I sometimes work alone, every project eventually requires teamwork." When asked to tell what other personal characteristics contribute to his suitability for this position, he adds that being curious, tenacious, and creative also have a positive impact in his area of work. "I was always interested in a career in engineering, exclaims Harvey. "My love of chemistry led me to chemical engineering. My undergraduate degree was the key to starting my career. A summer internship with the company is what led me to pursue a career in R&D with my present company." Harvey notes that his education did not end when he started work. Many projects require new skills, and on-the-job training contributes greatly to providing the basis for these requirements. He concludes, "You never stop learning."