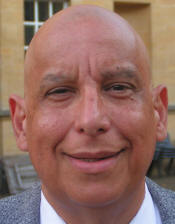 Aldemaro Romero
Chair and Professor
Arkansas State University
Jonesboro, AR


Licenciado Biología, Universidad de Barcelona, Barcelona, Spain
Ph. D., University of Miami, Coral Gables, FL
Aldemaro Romero is interested in interesting questions in science: the "why" questions.
"Be hungry, be humble."


What fields of biology do you work in?


Romero: Integrative Biology.



Q: When did you know you wanted to become a Biologist?


Romero: When I was 12 years old.



Q: What was your college experience like?


Romero: Intense. I had the fortune of having a very strong adviser, Dr. Steven Green, who taught me to be uncompromising when it came to thoroughness and quality while being a graduate student.



Q: Did you incorporate work experiences while you were an undergrad?


Romero: Yes, I worked as a science reporter which allowed me to get an insight on how science worked even before I became a scientist.



Q: How did you get your first job?


Romero: I used the "shotgun" approach: applying to as many jobs as possible.



Q: What's the most rewarding thing about being a Biologist?


Romero: To be involved in the process of discovery and to share that process with others: colleagues, students, and the general public.



Q: Is there an example you can provide that shows how something you've worked on has positively impacted the world?


Romero: By knowing that I made an impact on many of my former students who have told me that I changed their lives by guiding them to become better human beings.



Q: Do you spend a fair amount of time traveling?


Romero: Some, for either field work or attending professional meetings.



Q: Do you have a mentor? Or did you in your college years?


Romero: I did when I was in graduate school. His name is Steven Green.



Q: Do you find yourself working more in a team situation, or more alone?


Romero: I would say 50/50.



Q: Do you find you are able to balance work with social/family life while working in your current job?


Romero: I am workaholic with a very understanding family.



Q: If you had to do it all over again, would you still become a Biologist?


Romero: Yes. No question about it.



Q: Did you think that school prepared you for the way the work gets done in the real world?


Romero: I already had a lot of "real world" when I was in college. One complemented the other.



Q: Where do you see jobs for Biologists in the future? What should students be doing to prepare themselves to take on those roles?


Romero: Mostly in areas that promote interdisciplinary work, not only within biology but also with other branches of knowledge.



Q: What other advice do you have for precollege students?


Romero: Be hungry, be humble.