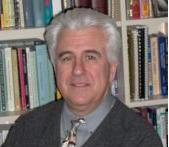 Craig M. Nelson
Clinical Laboratory Scientist (CLS)
Kaiser Permanente Medical Center Fontana, CA
California State University, Fullerton
Fullerton, CA
BS Microbiology, California State Polytechnic University,
CLS/MT(ASCP)BB, USC/LAC School of Medical Technology
MA Religious Education, Loyola Marymount University
Graduate Certificate of Advanced Studies Bioethics, Loyola Marymount University
PhD Religion, Claremont Graduate University
Craig Nelson performs diagnostic testing in a clinical laboratory at a large medical center. He spends about 20% of his time conducting research and developing new tests.
"Don't be afraid to put in the time necessary to excel and never cease being a lifetime learner."


What fields of biology do you work in?


Nelson: Clinical Laboratory Medicine.



Q: When did you know you wanted to become a Biologist?


Nelson: I knew after I completed my first college microbiology course.



Q: What was your college experience like?


Nelson: It was a wonderful "hands-on" approach to science that I appreciated most. My senior project took 12 months and I enjoyed the responsibility and challenge involved in conducting the research. I worked with Hemophilus influenza type b in its encapsulated form and examined its leukotactic effect in vitro.



Q: Did you incorporate work experiences while you were an undergrad?


Nelson: I worked at the student health center as a lab assistant to the CLS on campus. I performed environmental testing at the various food facilities on campus and assisted in various lab preparations from checking agar plates for bacterial growth to washing and preparing laboratory glassware.



Q: How did you get your first job?


Nelson: I landed my first job through the placement center at Cal Poly as a quality control microbiologist at Avon in Pasadena, CA. I tested various products for pathogens to make sure consumers were safe.



Q: What's the most rewarding thing about being a Biologist?


Nelson: Learning, staying up with the fast moving technology, and most of all making a difference in people's lives.



Q: Is there an example you can provide that shows how something you've worked on has positively impacted the world?


Nelson: The last two papers I published both had to do with improving patient care by improving test methodologies. One study impacted patients undergoing parathyroid explorations and the other helped patients with deep venous thrombosis (DVT).



Q: Do you spend a fair amount of time traveling?


Nelson: Mostly in Southern California.



Q: Do you have a mentor? Or did you in your college years?


Nelson: Dr. Robert Barlet was my undergrad mentor. He was not only brilliant, but welcomed the many questions I had while doing coursework and projects.



Q: Do you find yourself working more in a team situation, or more alone?


Nelson: Today I work in a very supportive team setting that enables me to accomplish the collegial goals we have in our laboratory.



Q: Do you find you are able to balance work with social/family life while working in your current job?


Nelson: Yes, I spend a great amount of quality time with my wife of 35 years. We like hiking, traveling, and spending time at Disneyland. I am also an avid runner. I have run marathons, half-marathons and even once ran to the top of Mt. Baldy (10,000 feet).

Q: If you had to do it all over again, would you still become a Biologist?


Nelson: I love working in "applied science" devising ways to use biological technology to improve people's lives.



Q: Did you think that school prepared you for the way the work gets done in the real world?


Nelson: Both Cal poly and USC/LAC were excellent places to learn and grow. I gained outstanding practical and theoretical skills that help me to this day.



Q: Where do you see jobs for Biologists in the future? What should students be doing to prepare themselves to take on those roles?


Nelson: The future lies in adapting to the world of PCR, RNA, nanos and taking and mastering as many biochemistry courses as you are able.

Q: What other advice do you have for precollege students?


Nelson: Don't be afraid to put in the time necessary to excel and never cease being a lifetime learner.