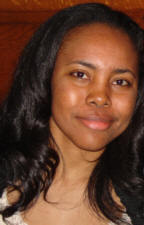 Lauren E. McGee
Student Working Toward
MS in Environmental Science
Ohio State University
Columbus, OH
BS in Agriculture/Earth and Environmental Science at NC A&T State University
Working toward
MS in Environmental Science at Ohio State University
"Don't feel obligated to know which career you wish pursue once you enter college. Be open to taking an assortment of classes to help figure out your true interests."


Q: When did you know you wanted to become a Biologist?


McGee: When entering college, I originally thought I wanted to pursue a career related to the business aspects of waste management. However, after participating in several fieldtrips affiliated with ESA's (Ecological Society of America) SEEDS program and through taking several upper level ecology courses, I realized that my interests lied in studying the ecology of stream and soil ecosystems.

Q: What is your college experience like in terms of the amount of time you find you need to study each day?


McGee: My undergraduate experience was great. I had a well-rounded social and academic life. As far as time spent on schoolwork outside of lecture is concerned, I spent an average of five hours per week reviewing lecture material, doing homework, and/or preparing for exams. In graduate school, it has been a bit harder to maintain a social life due to classes, research, and teaching responsibilities.



Q: Are you incorporating any work experiences while you are a student?


McGee: As an undergraduate student, I held summer internships with the USDA Rural Development. I also worked as a lab technician in a soil physics lab during the school semester.



Q: How did you prepare for your college experience?


McGee: In high school, I was involved in extra-curricular activities and took a SAT prep course. Applying for graduate school is a process that's completely different from undergraduate. Major differences include deciding which program you wish to pursue: professional vs. research. Also, if doing a research degree, it's important to consider what kind of research you want to do, where do you want to do it, with whom do you want to do your research (i.e. who do you want to be your research advisor/mentor), is there funding available to support your education and research project, etc. The best way to prepare is first try to find answers to all of these questions. Lastly, to enter graduate school you must take the GRE or some other type of professional school test (e.g. MCAT) so it is important to prepare for these exams.



Q: Did/do you have a mentor that has helped guide you thus far?


McGee: Yes, I've had several professional mentors throughout both my undergraduate and graduate school careers. Each has provided me with timeless advice concerning how to become a better scientist, and each has also shared personal experiences about the struggles they face in their careers.



Q: Is there a specialty area you have focused on in Biology? If so, what is it, and how did you decide on this specialty? Also, at what point in your college experience did you decide on the specialty?


McGee: I consider myself an ecologist. Specifically, I'm interested in understanding mechanisms that drive biogeochemical processes (e.g., carbon and nutrient cycling) in both aquatic and soil ecosystems. I was drawn to this career after taking courses as an undergraduate student and after participating in activities administered by the SEEDS (Strategies for Ecology, Education, Development and Sustainability) program of ESA (Ecological Society of America). I was a sophomore/junior in college in college when I decided to pursue a career in ecology.

Q: Is it hard to balance your Biology studies with other college activities (entertainment, travel, having fun)?


McGee: It wasn't hard to balance my studies as an undergraduate student. It has been quite difficult in graduate school.



Q: Do you find yourself studying more in a team situation or alone? Do you have a preference?


McGee: I personally prefer to study alone and find myself frequently doing so. When doing research, I work in groups.



Q: What's the hardest thing you have found about your college experience working toward a degree in Biology?


McGee: It has been difficult (or at least feels unnecessary) to take courses that don't really relate to concepts which interest me.



Q: What's the most rewarding aspect about working toward a degree in Biology?


McGee: In regards to ecology, I enjoy knowing that I work in an interdisciplinary field that can be reviewed as a relevant science. In addition, I find out easier to learn/explain concepts related to physics and chemistry when put into the context of ecology.



Q: Do you think you'll continue studying Biology, or do you think you'll switch to another area? Why?


McGee: I think that I will stay within the field of ecology. I enjoy conducting ecological research and am interested in contributing to the body of scientific knowledge about aquatic and soil ecosystems, particularly those impacted by anthropogenic activity.



Q: Do you have any idea what sort of industry or work you'd like to do when you graduate? If so, how did you find out about this industry or field?


McGee: I'm interested in working at a research entity (e.g. government, non-profit sector, non-teaching academic). I've found out about these kinds of jobs through personal inquiry and through working in academia as a graduate student.

Q: Do you think you'll want to pursue additional degrees after you complete the one you are working on? Why or why not?


McGee: I may. I haven't yet completely decided due to the level of personal commitment needed to pursue a PhD. However to be an ecologist who does independent research (which is what I hope to do), attaining a PhD is almost a requirement.



Q: Did you think that school will prepare you for the way the work gets done in the real world?


McGee: Not necessarily. It provides the skills needed to do a job – but the interplay of bureaucracy is something that I don't think many people coming straight out of college are prepared to handle.



Q: How many schools offering Biology programs did you apply to? How many accepted you?


McGee: Seven; seven (note I originally applied to environmental engineering and environment science programs; all schools, however, had a biology program).



Q: How did you decide which college/university to go to?


McGee: I decided to attend the school which offered the best financial package.



Q: What should high school students be doing to prepare themselves to take on the work that Biology undergraduate students do?


McGee: Learn to love reading scientific literature, be familiar with the scientific methods, take high school biology courses, learn to write scientifically, and participate in school science fairs. If interested in ecology, go outside and make observations about your environment! Nature isn't only found in distant places, you can study ecology in your own backyard. Also, volunteer with a local conservation or watershed group that does ecosystem monitoring. It will provide great scientific experience.



Q: What other advice do you have for high school students?


McGee: Don't feel obligated to know which career you wish pursue once you enter college. I didn't know I wanted to be an ecologist until my junior year of my undergraduate education. Be open to taking an assortment of classes to help figure out your true interests. Remember not everyone is a scientist.