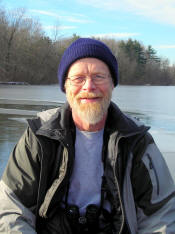 Charles A. "Chuck" McClaugherty
Director, Brumbaugh Center for Environmental Science,
The Dr. John D. Brumbaugh Professor of Ecology and Environmental Science
Mount Union College
Alliance, OH

| | |
| --- | --- |
| | Ph.D. Forest Ecology. University of Wisconsin – Madison, 1983 |
| | Chuck McClaugherty directs a field station for college teaching and research and environmental education for all ages. |
| | "Work very hard and discover what you love and pursue it. Seek out good mentors." |


What fields of biology do you work in?


McClaugherty: Ecology.

Q: When did you know you wanted to become a Biologist?


McClaugherty: Before high school.



Q: What was your college experience like?


McClaugherty: Awesome! As an undergraduate I studied wildlife biology and entomology at Cornell University. My professors were challenging and brilliant After working as a biologist for four years I returned to academia to earn advanced degrees. Again I had incredible teachers, mentors, and fellow students.



Q: Did you incorporate work experiences while you were an undergrad?


McClaugherty: I worked in a research lab on white tailed deer and their ecological energetics.



Q: How did you get your first job?


McClaugherty: I had worked as a seasonal naturalist in the Virginia State Park System and my first job out of College was as the supervising naturalist for the state of Virginia, traveling to and assisting with the interpretive programs in the state parks throughout the state.



Q: What's the most rewarding thing about being a Biologist?


McClaugherty: Life is so diverse and so dynamic that every day brings new knowledge or understanding along with a new level of questions.

Q: Is there an example you can provide that shows how something you've worked on has positively impacted the world?


McClaugherty: I am primarily a teacher. My most positive impact has been the students that I have mentored who have gone on to satisfying and productive jobs in biology. My research is on decomposition in forested ecosystems and has been useful in small ways in understanding the potential of forests and forest soils to sequester carbon. This is, of course, a significant issue as we consider the increase in carbon dioxide in the atmosphere.

Q: Do you spend a fair amount of time traveling?


McClaugherty: I travel 1-2 weeks a year to professional meeting, several months a year on research, and every other year I teach a class on tropical biology in Costa Rica.



Q: Do you have a mentor? Or did you in your college years?


McClaugherty: I have had numerous academic mentors while a student. Now my mentors are my colleagues.



Q: Do you find yourself working more in a team situation, or more alone?


McClaugherty: Both. My teaching work is largely alone though I work in a team as part of a department. My administrative work is always as part of a team. My research usually involves at least one other person.



Q: Do you find you are able to balance work with social/family life while working in your current job?


McClaugherty: Like ecology and the balance of nature -- It is dynamic, never in balance but always seeking a balance. Sometimes my work keeps me from doing what I want with my home and social life. Other times my work offers the flexibility to spend time with my family. It is always changing.



Q: If you had to do it all over again, would you still become a Biologist?


McClaugherty: Absolutely.



Q: Did you think that school prepared you for the way the work gets done in the real world?


McClaugherty: Yes, but I had some special circumstances that may have helped. I was in ROTC and I had some very good summer jobs as I mentioned above.



Q: Where do you see jobs for Biologists in the future? What should students be doing to prepare themselves to take on those roles?


McClaugherty: The future for biologists will be in health and environment. Preparation will require development of problem solving and question asking skills. That must be coupled with scientific communication skills.



Q: What other advice do you have for precollege students?


McClaugherty: Work very hard and discover what you love and pursue it. Seek out good mentors.