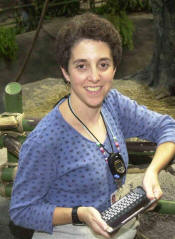 Sue Margulis
Curator of Primates
Lincoln Park Zoo
Chicago, IL

Ph.D., Evolutionary Biology, University of Chicago, 1996
M.A., Environmental, Population, and Organismic Biology, University of Colorado, 1985
B.S., Animal Behavior, Bucknell University, 1982
Sue Margulis oversees the animal collection at the Regenstein Center for African Apes and the Helen Brach Primate House at the Lincoln Park Zoo.
"Be sure to get as much research experience as you can. It will help you determine what you like and, just as important, what you don't like."


What fields of biology do you work in?


Margulis: Animal behavior/primatology/conservation



Q: When did you know you wanted to become a Biologist?


Margulis: I've known it since I was 5.



Q: What was your college experience like?


Margulis: As an animal behavior major, I had the opportunity to begin doing research at the end of my first year of college. I invested tremendous time in this, took as many biology and psychology courses as I could, and took advantage of research opportunities.



Q: Did you incorporate work experiences while you were an undergrad?


Margulis: I was a teaching assistant for several classes (organic chemistry, plant physiology) and took advantage of unpaid internship opportunities during the summer and during the optional "January Program." I interned at zoos, traveled, continued to do research on campus.



Q: How did you get your first job?


Margulis: I went directly into graduate school after I got my bachelor's degree. After this, I got my first "real" job as a zoo keeper. I was very lucky -- it is much harder to walk into a position like that today. I was moving for personal reasons, and fortunately, the city I moved to was getting ready to re-open their zoo. I was hired as a primate keeper.



Q: What's the most rewarding thing about being a Biologist?


Margulis: The opportunity to work closely with animals is what drew me to this field, and is still among the most rewarding aspects. I feel that I have the opportunity to influence positive conservation action, which is, or should be, a priority for every biologist. I find teaching to be particularly rewarding, and especially enjoy working with high school and beginning college students.



Q: Is there an example you can provide that shows how something you've worked on has positively impacted the world?


Margulis: Zoos are in a unique position to influence how individuals view the natural world. I try to engender a respect for nature in everything I do. I feel it's easy to think of nature conservation as something that impacts other parts of the world, and there is nothing we can do, so I try to focus on how our actions every day can impact conservation. I have come up with a list of "7 things you can do to help primate conservation," and try to bring these to peoples' attention whenever I can. I also do research with colleagues that focuses on the wellbeing of animals in zoos. I believe this has a very direct positive impact as well.



Q: Do you spend a fair amount of time traveling?


Margulis: I travel to conferences 3 or 4 times a year. I have not had an opportunity to do field research, but am hoping to initiate some in the coming year.



Q: Do you have a mentor? Or did you in your college years?


Margulis: I've had several. My undergraduate advisor was instrumental in helping me become a researcher and realizing my potential. My graduate advisor shaped my research focus and gave me an opportunity to accomplish what I had set out to do when I returned to graduate school. My first supervisor at my current job helped me to understand what it takes to become a zoo curator.



Q: Do you find yourself working more in a team situation, or more alone?


Margulis: While I do spend a fair bit of time staring at my computer, alone, I feel that most of what I do is in a team situation. This includes projects at the zoo, multi-institutional zoo endeavors, professional affiliations, and mentoring students.



Q: Do you find you are able to balance work with social/family life while working in your current job?


Margulis: It's a challenge, but I manage. I was able to work a fairly flexible schedule when my children were young. They are more independent now, and my schedule is less flexible, but somehow we make it work. I do a lot of work at home, to try and keep my head above water.



Q: If you had to do it all over again, would you still become a Biologist?


Margulis: Absolutely. There is nothing else I ever wanted to do, and I can't imagine a different career path.



Q: Did you think that school prepared you for the way the work gets done in the real world?


Margulis: School provides the basic knowledge that is required, but it's only real world experiences and on-the-job training that can fully prepare you. I try to remind my students that science is collaborative, and encourage group work—this is becoming more common in undergraduate education, but it's still a challenge at times. I always encourage students to get some "real world" experience before going on to graduate school. I think it makes for a more well-rounded student and helps shape ideas and place them in a broader context.



Q: Where do you see jobs for Biologists in the future? What should students be doing to prepare themselves to take on those roles?


Margulis: There is tremendous focus on cellular and molecular ("skin-in") biology, but I am a behavioral ecologist ("skin-out" biology). I think conservation, including such areas as alternative energy, population regulation, and so on, is critical and is something that all biologists should be thinking about. There will always be great demand for medical-oriented biological researchers, however without the conservation science, we won't have much to study, so it is our responsibility to make sure that conservation plays a role in what we do.



Q: What other advice do you have for precollege students?


Margulis: Be sure to get as much research experience as you can. It will help you determine what you like and, just as important, what you don't like. Demonstrate sound conservation practices in your daily life -- it will rub off on others. Take some time before graduate school to gain experience and sharpen your career plans and objectives.