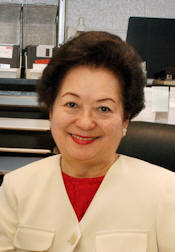 Edna S. Kaneshiro
Distinguished Research Professor
University of Cincinnati
Cincinnati, OH
Ph.D., Syracuse University
Edna S. Kaneshiro is a Distinguished Research Professor at the
University of Cincinnati in Ohio.
"Become more sensitive and aware of what's around you."


What fields of biology do you work in?


Kaneshiro: Microbiology, biochemistry, cell physiology.



Q: When did you know you wanted to become a Biologist?


Kaneshiro: After my MS studies in science education focusing in geology, and teaching general science in a high school.



Q: What was your college experience like?


Kaneshiro: Undergraduate through completion of the Ph.D. was wonderful with great mentors and student colleagues. We worked hard and played hard and were optimistic of the future.



Q: Did you incorporate work experiences while you were an undergrad?


Kaneshiro: Yes, that was the key to becoming interested in biology since I worked as an undergraduate student technician in a zoology research laboratory and the faculty and graduate students in the department became my personal friends.



Q: How did you get your first job?


Kaneshiro: Applied for the position.



Q: What's the most rewarding thing about being a Biologist?


Kaneshiro: Learning and contributing to new information, and to work on understanding dynamic processes from things happening on the biochemical and cellular level to the environment.



Q: Is there an example you can provide that shows how something you've worked on has positively impacted the world?


Kaneshiro: Contributions to what is currently known about the biochemical nature of the lipids of some microbial organisms that would otherwise not be known. I have worked on bringing together scientists from around the world by organizing meetings and by being active in several professional societies having served in a variety of leadership positions.



Q: Do you spend a fair amount of time traveling?


Kaneshiro: Mainly to scientific meetings.



Q: Do you have a mentor? Or did you in your college years?


Kaneshiro: I had several mentors during and after my college years.



Q: Do you find yourself working more in a team situation, or more alone?


Kaneshiro: Both, but mainly with students within my group on a day-to-day basis.



Q: Do you find you are able to balance work with social/family life while working in your current job?


Kaneshiro: Yes.



Q: If you had to do it all over again, would you still become a Biologist?


Kaneshiro: Yes.



Q: Did you think that school prepared you for the way the work gets done in the real world?


Kaneshiro: Yes.



Q: Where do you see jobs for Biologists in the future? What should students be doing to prepare themselves to take on those roles?


Kaneshiro: There are many alternative jobs biologists can fill especially if they did well academically in a solid liberal arts program. There are many sub-disciplines in biology so first get broad exposures to them before specializing and take advantage of situations that allow for 'hands-on' experience.



Q: What other advice do you have for precollege students?


Kaneshiro: Become more sensitive and aware of what's around you - there's some pretty fascinating stuff surrounding your daily life if you just observe and think about it. Of course, do your best in your coursework aiming for the very top - even if you don't make it to the very top, you will probably achieve higher than if you aim low.