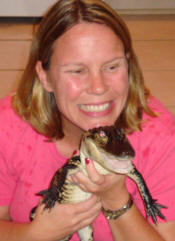 Kimberly W. Jones
Natural Resources Manager
Town of Bluffton
Bluffton, SC
| | |
| --- | --- |
| | M.S., Biology, Indiana University of Pennsylvania, 1995 |
| | Kimberly Jones balances the needs of our natural environment with development pressure. |
| | "Internships are valuable and should be sought. Not only will they give you much needed practical experience, but an opportunity to "test" out a career before fully committing to it." |


What fields of biology do you work in?


Jones: Natural Resources Management for local municipality.



Q: When did you know you wanted to become a Biologist?


Jones: As a young child I knew I wanted to be involved in the studying/working with "nature."



Q: What was your college experience like?


Jones: My undergraduate and graduate careers were both in very supportive, small classes and programs. This allowed better interaction with classmates and professors alike. Additionally, local schools can offer an outstanding education and research opportunities.



Q: Did you incorporate work experiences while you were an undergrad?


Jones: Yes, I became the supervisor for the environmental laboratory.



Q: How did you get your first job?


Jones: Timing is everything. I had moved to a new state and was in the right place at the right time to apply for and obtain a new position at a local natural history museum.



Q: What's the most rewarding thing about being a Biologist?


Jones: You can and do make a difference every day in the work you do whether by influencing policy or better enabling decision makers to incorporate sound science into their process.



Q: Is there an example you can provide that shows how something you've worked on has positively impacted the world?


Jones: Currently, I am involved in a water quality issue for a local river that can become a model for other communities to emulate on how to involve their developing communities in preserving natural resources.



Q: Do you spend a fair amount of time traveling?


Jones: Regional traveling is required.



Q: Do you have a mentor? Or did you in your college years?


Jones: Yes to both. My advisors were invaluable in my undergraduate and graduate years. Currently, I have a committee of scientists on whom I rely for guidance.



Q: Do you find yourself working more in a team situation, or more alone?


Jones: Both approaches are used. There are many committees in government work and then there are times that solo work is required.



Q: Do you find you are able to balance work with social/family life while working in your current job?


Jones: My current job is very demanding. It is challenging to make time for my family and friends when certain large projects are due.



Q: If you had to do it all over again, would you still become a Biologist?


Jones: Yes. It is a broad enough field that there are many opportunities to follow your heart's desire.



Q: Did you think that school prepared you for the way the work gets done in the real world?


Jones: Not completely. The process of learning is important and will utilized straight out of school. But, each organization works in its way and there really is no way to teach this; it must be learned on the job. But, a good education will prepare you to do this.



Q: Where do you see jobs for Biologists in the future? What should students be doing to prepare themselves to take on those roles?


Jones: The future seems to be very bright in several fields including molecular genetics, pharmaceuticals, environmental policy, global climate change impacts, and alternative forms of energy. To prepare a student should take electives in supporting departments such as geography, geology, social sciences, journalism and such.



Q: What other advice do you have for precollege students?


Jones: Internships are valuable and should be sought. Not only will they give you much needed practical experience, but an opportunity to "test" out a career before fully committing to it so that you can tweak your "life plan" if necessary.