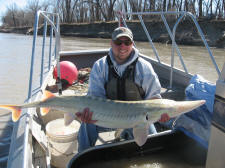 John R. Hunziker
Fisheries Technician III
Montana Fish, Wildlife and Parks
Fort Peck, MT
| | |
| --- | --- |
| | BS, Fish and Wildlife Biology, Univ. of North Dakota, 2004 |
| | John Hunziker is a crew leader on the Pallid Sturgeon Population Assessment Program. |
| | "Go into a field in which you are interested, it makes learning and school that much more enjoyable." |


What fields of biology do you work in?


Hunziker: Fisheries.



Q: When did you know you wanted to become a Biologist?


Hunziker: As a kid I grew up enjoying the outdoors – fishing, hunting, camping, etc. I also thoroughly enjoyed science class. As I grew older I learned I could combine my love for the outdoors with my love for science classes into a career. When I began taking general biology classes in college I had no doubt that I wanted to make Fish and Wildlife Biology my career.



Q: What was your college experience like?


Hunziker: College was an amazing experience for me. I graduated from a small high school by some people's standards and it was socially healthy to be exposed to many different people from many different places. The majority of my classes were very interesting, especially my junior and senior year when the bulk of my classes were specialized to my program. I obtained a great deal of knowledge from my professors and classes and I made many acquaintances that will remain my friends for a lifetime. I always tried to make personal time for myself to enjoy every aspect of college. You only get to be an undergrad one, make the most of it but take it seriously.



Q: Did you incorporate work experiences while you were an undergrad?


Hunziker: As an undergrad I was lucky enough to work summer fisheries jobs in my hometown. I was able to incorporate many different fisheries aspects into my work such as large and small rivers, reservoirs, prairie streams, prairie ponds, creel census, trend sampling and other various duties. I learned to implement a variety of sampling gears and methods. It was an incredible experience to be able integrate many of the fundamentals I had been learning in the classroom setting.



Q: How did you get your first job?


Hunziker: I got my first fisheries job as a result of a chance run in with my hometown fisheries manager. We had a brief discussion about college and the program I was in. The discussion led to him asking my summer job plans and him explaining a few positions they would have open for summer technicians. I applied for and received one of the positions.



Q: What's the most rewarding thing about being a Biologist?


Hunziker: Getting to do what I love. The majority of my work is spent being outside enjoying the phenomenon of nature. I often tell people that I have the greatest job in the world, proclaiming, "I get paid to fish".



Q: Is there an example you can provide that shows how something you've worked on has positively impacted the world?


Hunziker: I would like to think that the work I do every day positively impacts the world. The scope of my job involves the population monitoring of federally endangered pallid sturgeon. It is awesome and horrifying at the same time to work with an endangered species. I have grown to love the pallid sturgeon and take the work I do and the species recovery very serious. I think it is disheartening that this incredible creature does not receive the same public perception as the animals that people can visualize, such as the wolf, grizzly or bald eagle. I would like to think that every day I come to work the world is that much closer to removing one of its greatest treasures off the endangered species list.



Q: Do you spend a fair amount of time traveling?


Hunziker: The crew I work on travels often for fieldwork. The field season runs from March to October and travel can vary from just a few miles to a few hundred miles depending on the area to be sampled. Sometimes our travels will take us even further for meetings and training. During the winter months we do not travel near as much, only to attend a few meetings.



Q: Do you have a mentor? Or did you in your college years?


Hunziker: I respected and learned from all of my professors in college. Their combined knowledge in endless fields was a priceless commodity to indulge in. However, I would say my true mentors have been my supervisors and fellow employees. It is incredible to see the amount of knowledge, teamwork and friendship that has become our office. There are no questions that go unanswered and no suggestions that are disregarded.



Q: Do you find yourself working more in a team situation, or more alone?


Hunziker: The nature of our programs often requires us to work as a team, especially in the field setting. The work we do and the sampling gears we deploy often necessitate two to three people to successfully deploy and retrieve them. The work we perform in the office also demands teamwork to plan and implement meetings, conference calls, travel, data preparation and other daily tasks.



Q: Do you find you are able to balance work with social/family life while working in your current job?


Hunziker: For the most part there is a fairly easy balance for me. Although the summer months often lead to long workdays and overnight stays out of town, it is to be expected and personal activities need to be planned around work. I am fortunate enough to work with and for people that allow flexible work schedules and grant requests for time off. I also know that when the late fall and winter arrives we have built up personal time to use as we please.

Q: If you had to do it all over again, would you still become a Biologist?


Hunziker: Yes, without a doubt. I can't imagine doing anything else for a living.



Q: Did you think that school prepared you for the way the work gets done in the real world?


Hunziker: I think that my education prepared me competently for the work world in the way of biology, research and methods. However, I think there is no substitute for the way that my summer fieldwork positions prepared me as far as the way that work gets done in the real world. Everyday I come into work it is a learning experience in how and why the work we do gets done.



Q: Where do you see jobs for Biologists in the future? What should students be doing to prepare themselves to take on those roles?


Hunziker: I think the role of science and biology will become ever more important in the near future. It is evident that the people of the world are becoming more and more environmentally sensitive. I think that students should take their role in the future very seriously. It will be themselves and their children that will have to live in this changing environment. With the Internet there are countless topics to research and educate ones self with. Students should take an active role in soaking up as much knowledge as possible and utilizing multiple sources in learning.



Q: What other advice do you have for precollege students?


Hunziker: Go into a field in which you are interested, it makes learning and school that much more enjoyable. Make contacts in your field of interest and ask questions regarding the work in which they do and possibilities of employment or volunteer opportunities. Show an interest in the work and make your name and face a positive memory to people in the field you want to work in.