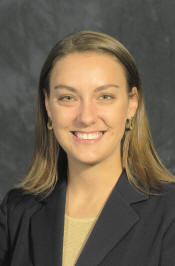 Sarah Hagedorn
Ocean Scientist
Environmental Defense Fund
Raleigh, NC
| | |
| --- | --- |
| | Master, Coastal Environmental Management, Duke University, 2002 |
| | Sarah Hagedorn provides scientific support and analysis on fisheries and critical habitat in the Southeast Atlantic, focusing on the translation of good science into successful policy and management decisions. |
| | "Don't forget to have fun in college as well as study hard! For example, join an honor society, play in the band, or be a part of a school club. Graduate schools and advisors like to see that you are well rounded – not all book-study, not all having fun, but a nice mixture of both." |


What fields of biology do you work in?


Hagedorn: Marine biology.



Q: When did you know you wanted to become a Biologist?


Hagedorn: Since I was a child.



Q: What was your college experience like?


Hagedorn: Extremely rewarding and fun. Taking a variety of college classes helped solidify my decision to become a biologist.



Q: Did you incorporate work experiences while you were an undergrad?


Hagedorn: Yes. I took 6 months off to do an internship in the field of marine biology. My supervisor from this internship and I are still close, and she has helped me throughout my career by providing advice and helping me find jobs. This internship experience also played a major part in getting into graduate school and gave me connections within my career that will last a lifetime.



Q: How did you get your first job?


Hagedorn: My graduate school advisor helped me get my first job. One of his work acquaintances was hiring, and I fit the bill.



Q: What's the most rewarding thing about being a Biologist?


Hagedorn: Knowing that I am making a difference. In addition, I truly love the biological sciences, and I find it rewarding to work in a field that continuously fascinates me. Being a biologist also offers opportunities to get outside!



Q: Is there an example you can provide that shows how something you've worked on has positively impacted the world?


Hagedorn: Every day I work towards putting sound fisheries policy in place so that our fisheries won't be depleted and fishermen are able to have a stake in their resource and keep fishing



Q: Do you spend a fair amount of time traveling?


Hagedorn: Yes. I travel to many different places to attend meetings and network with people, and occasionally to go out on commercial fishing boats or do field research.



Q: Do you have a mentor? Or did you in your college years?


Hagedorn: Yes. I was assigned a professor as a mentor in college. However, my internship supervisor turned out to be more of a mentor to me than my assigned mentor. She continued to mentor me throughout school and afterwards too. In graduate school, my advisor was also a great mentor to me.

Q: Do you find yourself working more in a team situation, or more alone?


Hagedorn: In the past I have worked more as an individual, but now I am working more as a team. It is helpful to know how to work in both of these situations.



Q: Do you find you are able to balance work with social/family life while working in your current job?


Hagedorn: Sometimes it is hard to balance personal life with work, especially when I am traveling a lot. Most of the time I am able to balance both fairly well.



Q: If you had to do it all over again, would you still become a Biologist?


Hagedorn: Absolutely!



Q: Did you think that school prepared you for the way the work gets done in the real world?


Hagedorn: Yes. Undergraduate school taught me the basics, then graduate school was essential in learning how the real world works.



Q: Where do you see jobs for Biologists in the future? What should students be doing to prepare themselves to take on those roles?


Hagedorn: I would strongly suggest both college and graduate school, and would urge students to do an internship during undergraduate studies. The networking skills and connections made from this experience will help you throughout your entire career.



Q: What other advice do you have for precollege students?


Hagedorn: Don't forget to have fun in college as well as study hard! For example, join an honor society, play in the band, or be a part of a school club. Graduate schools and advisors like to see that you are well rounded – not all book-study, not all having fun, but a nice mixture of both.