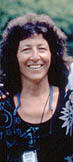 Trish Flaster
Executive Director
Botanical Liaisons, LLC
Boulder, CO



| | |
| --- | --- |
| | Masters of Science, University of Colorado, 1983 |
| | Trish Flaster conducts research in sustainable supply and product development based on traditional knowledge. |
| | "Follow your passions but learn the skills." |


What fields of biology do you work in?


Flaster: Ethnobotany.



Q: When did you know you wanted to become a Biologist?


Flaster: When I became interested in health and natural foods, and horticulture these combined with a strong sense of community led to Ethnobotany. I did not know it was Ethnobotany until I started meeting with Graduate program professors and described my interests.



Q: What was your college experience like?


Flaster: Sometimes intellectually challenging.



Q: Did you incorporate work experiences while you were an undergrad?


Flaster: Yes I had research jobs that help guide my future interests.



Q: How did you get your first job?


Flaster: Through my work study and focusing my research on a topic that was interesting to my employer.



Q: What's the most rewarding thing about being a Biologist?


Flaster: The uniqueness discovering, The functuality of medicinal plants , how people use them, how they learned the interaction.



Q: Is there an example you can provide that shows how something you've worked on has positively impacted the world?


Flaster: Training field collectors about the basics of classical botany and sharing with people how to use plants well.



Q: Do you spend a fair amount of time traveling?


Flaster: Yes.



Q: Do you have a mentor? Or did you in your college years?


Flaster: Varous people have been my mentors as I grow.



Q: Do you find yourself working more in a team situation, or more alone?


Flaster: I am working alone now, but prefer the team synergy.



Q: Do you find you are able to balance work with social/family life while working in your current job?


Flaster: Yes.

Q: If you had to do it all over again, would you still become a Biologist?


Flaster: Yes.



Q: Did you think that school prepared you for the way the work gets done in the real world?


Flaster: Not at all.



Q: Where do you see jobs for Biologists in the future? What should students be doing to prepare themselves to take on those roles?


Flaster: Be creative probe and create what you want.



Q: What other advice do you have for precollege students?


Flaster: Follow your passions but learn the skills.