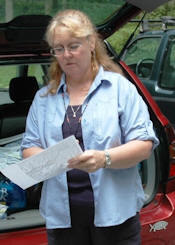 Patricia B. Cox
Senior Botanist
Tennessee Valley Authority
Knoxville, TN
B.S.; M.S. Biology-University of Louisiana at Monroe
Ph.D Botany, Louisiana State University
Patricia Cox serves as project leader for TVA projects relating to the protection and management of Federal and State Endangered & Threatened plant species and rare plant communities, to ensure their proper stewardship.
"Read all you can read. Observe all you can observe. Learn to write about what you observe. Keep an open mind and don't be afraid to try new things."


What fields of biology do you work in?


Cox: Plant Taxonomy, Field botany, Pteridology



Q: When did you know you wanted to become a Biologist?


Cox: I have always been interested in the Natural world and never really thought of doing anything else.



Q: What was your college experience like?


Cox: I had an awesome college experience. I went to a Master's level state institution during a time when field biology courses were still being taught. I received a well rounded education and feel comfortable taking about all aspects of Biology.



Q: Did you incorporate work experiences while you were an undergrad?


Cox: As an undergraduate I had a work-study job in the herbarium. This allowed me to learn even more plants, especially those that were not native to Louisiana.



Q: How did you get your first job?


Cox: I applied for a three year teaching post-doc position at the University of Tennessee and got the job. After three years, I moved into another position and ended up staying for 13 years.



Q: What's the most rewarding thing about being a Biologist?


Cox: One of my greatest rewards is knowing that I am making a difference in the protection of rare species and rare plant communities. I also love watching student's faces when they see a plant, animal, or ecosystem that they have never seen before, and knowing that have influenced many of them to become biologist themselves.



Q: Is there an example you can provide that shows how something you've worked on has positively impacted the world?


Cox: For the past 10 years, I have been involved with the All Taxa Biodiversity Inventory in the Great Smoky Mountain National Park. Since the inception of this project, 890 species have been identified as being NEW to Science and 6,129 new records have been recorded for the park. In addition, 11 other parks have decided to use the Smokies ATBI as a template to start their own surveys. This project has brought together scientist, volunteers, students, and teachers working towards a common goal. It is more than just a list; we are also looking at interrelationships between species and relationships between species and their environment. It is a huge undertaking and our goal to identify all the living things in the Smokies may be an unattainable goal, we are doing our best to educate the public on the importance of understanding the biodiversity in our "own backyard."



Q: Do you spend a fair amount of time traveling?


Cox: Yes. I have been at TVA for 5 years and during that time, I have traveled throughout the 7 state (Al, KY, GA, MS, NC, TN, VA) TVA power service area. I've been to places I would have never gone and seen species I would have never seen. I've always considered myself to be a "good" field botanist, but I have been humbled when I realized that I had never seen many of the federally-listed species that occur on TVA lands.



Q: Do you have a mentor? Or did you in your college years?


Cox: Yes. Dr. R. Dale Thomas, now retired from University of Louisiana at Monroe and Dr. L.E. Urbatsch at LSU-Baton Rouge.



Q: Do you find yourself working more in a team situation, or more alone?


Cox: At TVA we work together as a team with a botanist, zoologist, wetlands biologist, and aquatic biologist. Due to safety concerns we are not allowed to work alone in the field.



Q: Do you find you are able to balance work with social/family life while working in your current job?


Cox: Yes I can, but sometimes, it isn't easy.



Q: If you had to do it all over again, would you still become a Biologist?


Cox: Yes, I would. I can't imagine being or doing anything else.



Q: Did you think that school prepared you for the way the work gets done in the real world?


Cox: That is a hard question, since I was in academics for 13 years, before entering the government realm. School prepared me for my academic career. It would not have prepared me for work in the "real" world.



Q: Where do you see jobs for Biologists in the future? What should students be doing to prepare themselves to take on those roles?


Cox: Unfortunately, I feel field biologists are an endangered species. Most universities are training Molecular biologist and those headed for an academic career will need that training to get a job. Most of the field biologist's jobs will be with a state or federal agency and their demand will be dependant on what Administration is in office.



Q: What other advice do you have for precollege students?


Cox: Read all you can read. Observe all you can observe. Learn to write about what you observe. Keep an open mind and don't be afraid to try new things.