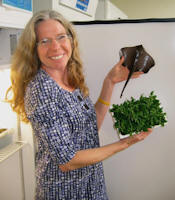 Judy Brusslan
Professor
California State University, Long Beach
Long Beach, CA
| | |
| --- | --- |
| | PhD, University of Chicago |
| | Judy Brusslan's job combines teaching, so that she has a broad perspective on biology, with research that keeps her more focused on her particular research area. |
| | "Stay strong in math and biology!" |


What fields of biology do you work in?


Brusslan: Plant Molecular Biology plus a side project on stingray population genetics.



Q: When did you know you wanted to become a Biologist?


Brusslan: Third grade; I had a giant insect collection and spent all my free time catching bugs, identifying them and displaying them in cigar boxes.



Q: What was your college experience like?


Brusslan: I was a Biology major at Middlebury College. I loved my senior year when I started focusing on Molecular Biology and worked in a microbiology research lab.



Q: Did you incorporate work experiences while you were an undergrad?


Brusslan: I worked 10 hours per week at the college cafeteria…not a huge demand as some students carry today.



Q: How did you get your first job?


Brusslan: I was a technician in New York City after college. First I went to NYC, and applied everywhere, but no luck. Then a dad of a friend from colleged knew someone…and that is how I got an interview and my first technician job at NYU.



Q: What's the most rewarding thing about being a Biologist?


Brusslan: I continue to learn and to share my knowledge.



Q: Is there an example you can provide that shows how something you've worked on has positively impacted the world?


Brusslan: To be honest, the teaching aspect of my job has the biggest impact on the world. Students come back to me many years later to thank me for for motivating them.



Q: Do you spend a fair amount of time traveling?


Brusslan: Not too bad, about 3-4 times per year.



Q: Do you have a mentor? Or did you in your college years?


Brusslan: My post-doc advisor, Elaine Tobin, was a caring mentor during my post-doc years. Currently, my Department Chair is helpful. In college, my undergrad research advisor played a mentoring role, urging me to go to graduate school.



Q: Do you find yourself working more in a team situation, or more alone?


Brusslan: I like to work on my own to figure things out, but I also like to consult with others, so I can't really give an absolute answer to this question.



Q: Do you find you are able to balance work with social/family life while working in your current job?


Brusslan: Yep, husband and two daughters are a big priority. I even have some friends who are not scientists and on occasion I read novels.

Q: If you had to do it all over again, would you still become a Biologist?


Brusslan: Yes, Absolutely!!!



Q: Did you think that school prepared you for the way the work gets done in the real world?


Brusslan: School and post-doc were preparation, but multi-tasking is always a challenge that really is not taught in school.



Q: Where do you see jobs for Biologists in the future? What should students be doing to prepare themselves to take on those roles?


Brusslan: Mathematics….learn computer science!

Q: What other advice do you have for precollege students?


Brusslan: Stay strong in math and biology!