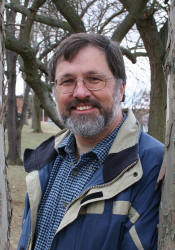 Woodward S. Bousquet
Professor of Environmental Studies and Biology
Chair, Environmental Studies Department
Shenandoah University
Winchester, VA
Ph.D., Science Education (emphasis in environmental science), The Ohio State University, 1982
M.S., Natural Resources, The Ohio State University, 1976
B.S., Cornell University, 1975
Woodward Bousquet teaches undergraduate courses in ecology, environmental science, regional studies, and related fields. He also supervises undergraduates in research and public education projects that address environmental concerns in the Shenandoah Valley region of Virginia, and beyond.
"I have seen many 'career fads' come and go. Follow your passion, get experience, and be creative in developing your career path."


What fields of biology do you work in?


Bousquet: Environmental Science.



Q: When did you know you wanted to become a Biologist?


Bousquet: Probably since I was five years old and found myself enjoying stomping around in ponds and streams and catching frogs.



Q: What was your college experience like?


Bousquet: Excellent! Great classes and field trips. I found courses I wanted to take and mentor-professors who encouraged my varied interests and gave me opportunities to grow.



Q: Did you incorporate work experiences while you were an undergrad?


Bousquet: Yes. Every summer I worked in an environmental field at a wildlife sanctuary or environmental education center.



Q: How did you get your first job?


Bousquet: I found a job listing at my university and applied…along with more than 200 others! My summer work and projects I did college attracted the search committee's attention, which led to an interview.



Q: What's the most rewarding thing about being a Biologist?


Bousquet: The opportunity to work together with undergraduate students to study environmental issues (e.g., water quality, land protection) that affect the ecological health and quality of life in the region where my university is located.



Q: Is there an example you can provide that shows how something you've worked on has positively impacted the world?


Bousquet: A year-long study that my students and I conducted of a nearby wetland led to its protection and dedication as our city's first formally designated natural area: the Abrams Creek Wetlands Preserve.



Q: Do you spend a fair amount of time traveling?


Bousquet: Most of my travel is within 200 miles from home. There are plenty of research projects and field trip sites right outside my door! However, I recently went to Guatemala to study how communities there are shifting to ecotourism to make their economies more sustainable. I have also traveled extensively in the Appalachian Mountains, from Alabama to Newfoundland, Canada.



Q: Do you have a mentor? Or did you in your college years?


Bousquet: Yes, my work supervisors when I was in high school were key mentors, as were several professors, plus colleagues in each of my first two jobs.



Q: Do you find yourself working more in a team situation, or more alone?


Bousquet: More in a team situation -- with faculty colleagues, and with undergraduate students.



Q: Do you find you are able to balance work with social/family life while working in your current job?


Bousquet: Always a challenge. It helps to schedule family and church events well in advance to make sure that I don't let my career fill my calendar. I've learned to say "no" or "not now".



Q: If you had to do it all over again, would you still become a Biologist?


Bousquet: Absolutely.

Q: Did you think that school prepared you for the way the work gets done in the real world?


Bousquet: School had better BE the so-called "real world"! I agree that the best preparation in upper-level university courses should involve applying classroom and lab instruction to problems that face people outside the university's borders.



Q: Where do you see jobs for Biologists in the future? What should students be doing to prepare themselves to take on those roles?


Bousquet: There has been a great deal of growth in the private sector in the past 20 years. Many more university graduates are finding jobs with environmental consulting firms — and with nonprofit citizens organizations -- than in state or federal government. Internships before graduation are critical.



Q: What other advice do you have for precollege students?


Bousquet: Do not -- repeat: do not -- select a career path primarily because you believe that money can be made in a particular field, or that jobs are scarce in another field. I have seen many "career fads" come and go. Many biology professors claim that, for instance, molecular biology and health professions are THE fields today in biology, while ecology and natural history are on the wane. As an ecologist who has seen his students succeed quite well after graduation, I beg to differ. Those biological skills that many might consider "old-timey" (e.g., collecting insects, preserving fish, knowing one flower from another) are now in demand because of society's increased needs for environmental impact assessment, wetland delineation and water quality monitoring. Remember, you don't need 100,000 job openings, you need only 1. Follow your passion, get experience, and be creative in looking for a career.