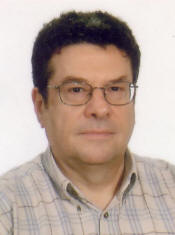 Marco L. Bianchini
Senior Researcher
Italian National Research Council (CNR)
Rome, Italy
MS, Biological Sciences, Univ. of Rome I (Italy), 1973
MS, Natural Sciences, Univ. of Rome I (Italy), 1981
PhD, Fisheries, UW 1999
Marco Bianchini focuses on population dynamics and stock assessment of deep-water shrimps.
"Remember that you will spend half of your life at work: choose something you enjoy, not money."


What fields of biology do you work in?


Bianchini: Fisheries and marine environment.



Q: When did you know you wanted to become a Biologist?


Bianchini: The last year of High School.



Q: What was your college experience like?


Bianchini: We had a curriculum that corresponded to MS (Hons), without passing thru BS. For my first MS, I lived in my hometown; my experimental dissertation required frequent (short) trips to a location 100 km far from my home, but I had some time for enjoying life.



Q: Did you incorporate work experiences while you were an undergrad?


Bianchini: Not at all, also because you had (long) periods dedicated exclusively to lectures and studying, with zero free (or work) time.



Q: How did you get your first job?


Bianchini: A local selection for a post-grad fellowship (is that a job?), and a national competition for a tenured position in the National Research Council at junior level (just 18 months after graduation).



Q: What's the most rewarding thing about being a Biologist?


Bianchini: To work both at the office and in open spaces, to stay in contact both with wildlife and human beings; being paid to study "pure science" without the hassle of making "saleable" technology.



Q: Is there an example you can provide that shows how something you've worked on has positively impacted the world?


Bianchini: I don't think so, because I am still waiting for my Nobel prize; but at the regional level, yes, because a restocking project of slipper lobster I led was a success (at least in knowledge).



Q: Do you spend a fair amount of time traveling?


Bianchini: A lot! I visited 75 foreign countries (and I know 35 US states).



Q: Do you have a mentor? Or did you in your college years?


Bianchini: No, and never had; but some colleagues consider me their mentor...



Q: Do you find yourself working more in a team situation, or more alone?


Bianchini: A small team is perfect, but I prefer loneliness to crowd.

Q: Do you find you are able to balance work with social/family life while working in your current job?


Bianchini: Yes, but my career somehow suffered (I would do the same "errors" if I could choose). I may change employer, but cannot change my sons; I cannot retire from parenthood! So it is better to spend some times working on family relationships than all the life labouring.



Q: If you had to do it all over again, would you still become a Biologist?


Bianchini: Why not? I do not have experience being a physicist or something else, maybe it is better, but I like what I am doing.



Q: Did you think that school prepared you for the way the work gets done in the real world?


Bianchini: No, and I am happy it didn't! My school curriculum opened my mind, fulfilling my curiosity, teaching me stuffs that are "useless" as a biologist, but incredibly important as a man. University courses are different, but still knowledge is better than preparation.

Q: Where do you see jobs for Biologists in the future? What should students be doing to prepare themselves to take on those roles?


Bianchini: I know nothing of "white coat" jobs, or about work markets; but Biology for me is the Nature, the wildlife, the "comprehension" of the causes, the coming home and being happy, the going to work and be happy too. Do what you like, and you will be the best; do what you think is right, and you will not be ashamed of yourself.



Q: What other advice do you have for precollege students?


Bianchini: Remember that you will spend half of your life at work: choose something you enjoy, not money.