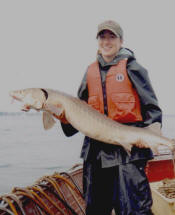 Angela Benson-Grier
Fisheries Research Biologist
Indiana Department of Natural Resources
Columbia City, IN

B.S., Fisheries, Virginia Polytechnic Institute and State University, 2001
M.S., Fisheries and Aquatic Sciences, Purdue University, 2004
Angela Benson-Grier is responsible for conducting fisheries research projects in glacial lakes located in the northern half of Indiana.
"Find what you are truly passionate about because passion will help make you successful in whatever it is you choose to do. "


What fields of biology do you work in?


Benson-Grier: Fisheries, Fisheries Ecology.



Q: When did you know you wanted to become a Biologist?


Benson-Grier: I knew I wanted to be a marine biologist in 9th grade. As I grew and learned more about the field, I learned more about where my specific interests were focused.



Q: What was your college experience like?


Benson-Grier: I did not do well when I first started college because I chose the wrong school and major based on what I wanted to do. After I transferred to Virginia Tech, I excelled and graduated at the top of my fisheries cohort. I really loved going to school at Virginia Tech. I started networking at meetings while I was an undergrad and that allowed me to get a lot of experience in the field as a technician and also helped me find my dream master's project. Graduate school at Purdue was a different kind of experience, but I really enjoyed that as well. I had a very exciting research project that allowed me to get valuable experience that I still use to this day. My graduate school research helped make it easy for me to find a job after I graduated.

Q: Did you incorporate work experiences while you were an undergrad?


Benson-Grier: I started out volunteering at the Virginia Institute of Marine Science my sophomore year and that led to getting hired as a summer technician in the following two summers. That was my first experience in fisheries and my experience was so great that I often marveled that they were paying me to do the work. In the years after that, I worked as a technician on several different graduate projects at Virginia Tech. I was also active in the Virginia Tech Chapter of the American Fisheries Society, a professional society, where I also gained valuable field experience.



Q: How did you get your first job?


Benson-Grier: I applied for three full-time positions while I was finishing up my thesis at Purdue. My networking, massive amount of field experience, and successful master's research paid off because I was offered two of the three positions. It also helped that through the networking I had done, I already knew the biologists that hired me when I started working for the Indiana Department of Natural Resources.



Q: What's the most rewarding thing about being a Biologist?


Benson-Grier: The best thing about being a biologist is that I am part of a collection of individuals that work together to create changes that will better protect our environment and better manage the resources we have left. The research I am a part of has long-lasting effects on the aquatic resources in Indiana.



Q: Is there an example you can provide that shows how something you've worked on has positively impacted the world?


Benson-Grier: The best example of how something I have worked on has had an impact is from my master's research. I characterized the nursery habitat of young lake sturgeon in an attempt to gain a better understanding of what would be necessary to protect them in order to allow them to grow to adults. I developed sampling techniques that now allow sturgeon researchers a more effective method for capturing these otherwise elusive fish, which in turn enables them to collect better information.



Q: Do you spend a fair amount of time traveling?


Benson-Grier: I travel about 8 or 9 times a year to meetings and training events. I have the option of traveling a little more or less depending on where my interests are.



Q: Do you have a mentor? Or did you in your college years?


Benson-Grier: My undergraduate advisor was an excellent mentor who showed me what it would take to be successful. She helped me get on the right path when I transferred to Virginia Tech and continues to be a mentor even though I no longer work with her directly.



Q: Do you find yourself working more in a team situation, or more alone?


Benson-Grier: I frequently work in a team situation on collaborative research projects that span many disciplines of science where different kinds of experts are involved. I also work alone at times on projects that I am interested in pursuing.



Q: Do you find you are able to balance work with social/family life while working in your current job?


Benson-Grier: I have a good balance of social/family life and work with my current job. I have a young family that I am able to spend time with and we are able to frequently travel across the country. I would always like more time to spend at home with my family, but I would also like more time at work for my projects, so I think I have a good balance right now.



Q: If you had to do it all over again, would you still become a Biologist?


Benson-Grier: I have wanted to be a biologist for so long that the realization of that dream has been one of the high points of my life. I had other interests in careers that I contemplated pursuing, but I have had some unique opportunities in my professional career to see what it would have been like in some of those other fields. I would not have chosen anything different for myself.



Q: Did you think that school prepared you for the way the work gets done in the real world?


Benson-Grier: I think that both my undergrad and graduate education almost fully prepared me for what the real world would be like. This is mostly because in my undergrad, I worked for the Virginia Department of Game and Inland Fisheries for a short time and in my graduate research, I worked with the Wisconsin Department of Natural Resources and US Fish and Wildlife Service, so I had experience working with state and federal agencies before I became a state employee. I think that experience was invaluable and allowed me the opportunity to learn whether or not I would be happy working for a state agency. Because I knew the basics involved with working for a state agency, I was able to fully integrate myself faster than someone with little to no experience.



Q: Where do you see jobs for Biologists in the future? What should students be doing to prepare themselves to take on those roles?


Benson-Grier: I see biologists in the future doing the same things we do now – finding ways to protect and manage the resources we have available. I see the need for well-trained and diversely-trained biologists in the future being even more critical than it is today. Multi-disciplinary collaborative research projects are important and those are the projects that are more likely to receive funds to do work. The better connected a student is through a professional society not only in their own field, but also related fields, will afford them more opportunities for jobs and funding in the long run.



Q: What other advice do you have for precollege students?


Benson-Grier: My best advice is to throw yourself into whatever it is you have an interest in doing. Put yourself out there, make connections with people, cultivate those connections, and ask a lot of questions. Find what you are truly passionate about because passion will help make you successful in whatever it is you choose to do.