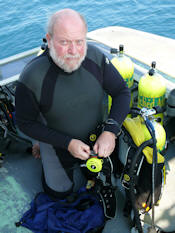 Peter J. Auster
Research Associate
Professor of Marine Sciences
University of Connecticut
Groton, CT
BSc/MSc, University of Connecticut
PhD University of Ireland Galway
Peter Auster conducts research and teaches classes in areas related to conservation and sustainable use of marine biological diversity in general and fishes in particular.
"Learn fast … we are all getting old and need bright young minds with fresh perspectives to take our place."


What fields of biology do you work in?


Auster: Marine ecology and conservation biology.



Q: When did you know you wanted to become a Biologist?


Auster: When I was in grade school but wanted to study life in outer space. It turned out not to be like "Star Trek" but life is all around in the ocean and going deep is almost like going into outer space.



Q: What was your college experience like?


Auster: Too many interesting classes and too little time.



Q: Did you incorporate work experiences while you were an undergrad?


Auster: Yes. Welding and loading trucks to make money to pay for books, car insurance, etc.



Q: How did you get your first job?


Auster: I was looking for adventure after receiving my newly minted BSc and found a job as a fishery observer on foreign fishing vessels in our 200 mile EEZ (read = field biologist to sample fishes). I spent two months on large trawlers from the former Soviet Union in the Bering Sea.



Q: What's the most rewarding thing about being a Biologist?


Auster: There are two things that I find incredibly rewarding and difficult to separate. The first is diving, whether with snorkel, scuba, submersibles, or remote controlled robots, in many places around the world to study fishes and associated biodiversity. The second is using the knowledge acquired doing such work to aid in conservation and sustainable use.



Q: Is there an example you can provide that shows how something you've worked on has positively impacted the world?


Auster: My work with colleagues on the ecological effects of fishing has contributed to positive changes in fisheries regulations and guidelines at both national and international levels.



Q: Do you spend a fair amount of time traveling?


Auster: Yes … for research cruises, scientific meetings, and management related activities (like a recent presentation about deep sea diversity and fisheries at the United Nations).



Q: Do you have a mentor? Or did you in your college years?


Auster: There were many people all along the way that gave me the opportunities that led me to where I am today. My parents always encouraged me to follow my heart and head in all things.



Q: Do you find yourself working more in a team situation, or more alone?


Auster: Both. I have many diverse interests with some amenable to, or that require, working in groups, like work on ecology of seamount communities in the deep sea. Others projects are just me and a diving partner on a coral reef somewhere collecting data on behavioral interactions.



Q: Do you find you are able to balance work with social/family life while working in your current job?


Auster: I'm not sure balance is the right word but I love most of what I do so it is not "work" and I do try to insure I get family time too. My lovely wife is also a professional biologist and has her own demands. Our four cats and a dog keep us centered.



Q: If you had to do it all over again, would you still become a Biologist?


Auster: Oh yeah. It's been a wild ride and I wouldn't change a thing.



Q: Did you think that school prepared you for the way the work gets done in the real world?


Auster: No. But it did provide me with the foundation, the building blocks, to apply knowledge and skills. Nothing is static in research and science and is a continuous learning process, developing new questions that require new skills and new ways of thinking.



Q: Where do you see jobs for Biologists in the future? What should students be doing to prepare themselves to take on those roles?


Auster: The environmental challenges for our society are daunting and link science with human needs, ethics and values. Biologists with an interest in conservation, whether on land or in the ocean, will need to bridge the natural and social sciences.



Q: What other advice do you have for precollege students?


Auster: Learn fast … we are all getting old and need bright young minds with fresh perspectives to take our place.