Professional Organizations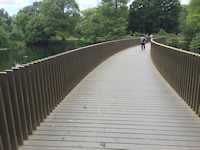 Professional organizations and associations provide a wide range of resources for planning and navigating a career in Architectural Engineering. These groups can play a key role in your development and keep you abreast of what is happening in your industry. Associations promote the interests of their members and provide a network of contacts that can help you find jobs and move your career forward. They can offer a variety of services including job referral services, continuing education courses, insurance, travel benefits, periodicals, and meeting and conference opportunities. A broader list of professional associations is also available by clicking here.

American Society of Heating, Refrigerating and
Air-Conditioning Engineers, Inc.
Membership in ASHRAE is open to any person associated with heating, ventilation, air conditioning or refrigeration through such disciplines as indoor air quality and energy conservation, for example. ASHRAE has more than 160 chapters organized into thirteen regions.

Architectural Engineering Institute of the American Society of Civil Engineers
AEI provides a multi-disciplinary national forum for members of but not limited to the architectural engineering, structural, mechanical, electrical, and architectural communities. AEI was established in 1998 and works to facilitate the crucial communication among members of the building team, both on a technical basis and in the professional arena.

Society of Fire Protection Engineers
The Society of Fire Protection Engineers was established in 1950 and is the professional society representing those practicing the field of fire protection engineering. The Society has approximately 4500 members in the United States and abroad, and 57 regional chapters. The purpose of the Society is to advance the science and practice of fire protection engineering and its allied fields, to maintain a high ethical standard among its members and to foster fire protection engineering education.

The Illuminating Engineering Society of North America
The IESNA is the recognized technical authority on illumination. For over ninety years its objective has been to communicate information on all aspects of good lighting practice to its members, to the lighting community, and to consumers through a variety of programs, publications, and services. The strength of the IESNA is its diversified membership: engineers, architects, designers, educators, students, contractors, distributors, utility personnel, manufacturers, and scientists.



Structural Engineering Institute
SEI is a 20,000 plus community of structural engineers within the American Society of Civil Engineers. SEI started in 1996 in order to serve the unique needs of the structural engineering community more effectively while also being their voice on broader issues that shape the entire civil engineering community.

Note: Some resources in this section are provided by the US Department of Labor, Bureau of Labor Statistics.