Preparation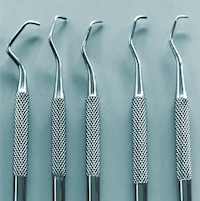 Prospective dental hygienists must become licensed in the state in which they wish to practice. A degree from an accredited dental hygiene school is usually required along with licensure examinations.
A high school diploma and college entrance test scores are usually required for admission to a dental hygiene program. High school students interested in becoming a dental hygienist should take courses in biology, chemistry, and mathematics. Also, some dental hygiene programs require applicants to have completed at least 1 year of college. Specific entrance requirements vary from one school to another.

Licensure
Dental hygienists must be licensed by the state in which they practice. Nearly all States require candidates to graduate from an accredited dental hygiene school and pass both a written and clinical examination. The American Dental Association's Joint Commission on National Dental Examinations administers the written examination, which is accepted by all states and the District of Columbia. State or regional testing agencies administer the clinical examination. In addition, most States require an examination on the legal aspects of dental hygiene practice. Alabama is the only state that allows candidates to take its examinations if they have been trained through a State-regulated on-the-job program in a dentist's office.

Accredited Programs
The American Dental Association's Commission on Dental Accreditation is the nationally recognized accrediting authority for dental education accreditation. There are about 300 dental hygiene programs currently accredited. Most dental hygiene programs grant an associate degree, although some also offer a certificate, a bachelor's degree, or a master's degree. A minimum of an associate degree or certificate in dental hygiene is generally required for practice in a private dental office, so working toward an associate degree is recommended over a certificate program. A bachelor's or master's degree usually is required for research, teaching, or clinical practice in public or school health programs.
Schools offer laboratory, clinical, and classroom instruction in subjects such as anatomy, physiology, chemistry, microbiology, pharmacology, nutrition, radiography, histology (the study of tissue structure), periodontology (the study of gum diseases), pathology, dental materials, clinical dental hygiene, and social and behavioral sciences. Be sure to double check with the American Dental Association's Commission on Dental Accreditation for a current list of accredited programs.
Note: Some resources in this section are provided by the US Department of Labor, Bureau of Labor Statistics.