Day in the Life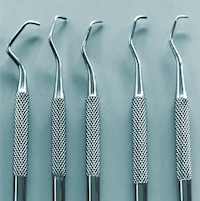 Dental hygienists work in clean, well-lighted offices. Important health safeguards include strict adherence to proper radiological procedures and the use of appropriate protective devices when administering anesthetic gas.
Dental hygienists wear safety glasses, surgical masks, and gloves to protect themselves and patients from infectious diseases. When taking x rays, they follow strict procedures to protect themselves and patients from radiation.
Flexible scheduling is a distinctive feature of this job. Full-time, part-time, evening, and weekend schedules are widely available.
Dentists frequently hire hygienists to work only 2 or 3 days a week, so hygienists may hold jobs in more than one dental office. More than half of all dental hygienists worked part time, or less than 35 hours a week.
Dental hygienists should work well with others because they work closely with dentists and dental assistants as well as dealing directly with patients. Hygienists also need good manual dexterity, because they use dental instruments within a patient's mouth, with little room for error.
Note: Some resources in this section are provided by the US Department of Labor, Bureau of Labor Statistics.